A woman and her 3-year-old son were attacked by three pit bull terriers Friday in Vallejo.
Police responded to a call at the 500 block of Locust Drive where they found a woman hovering over her son trying to shield him from the dogs.
"As they approached the dogs, the dogs released the adult female and turned on the officer," said Vallejo Police Sergeant Steve Darden.
Officers Dynelle Jones and Jake Estrada had to use pepper spray to chase the dogs away from the mother and child. Animal control officers were then able to lure the dogs away with food.
"This lady was fighting for her life, trying to save her baby and her self," said neighbor Dorris Hutcherson. "The dogs were trying to pull the baby from under her."
Hutcherson sais she had just gotten home from work aroun 5 p.m. when she noticed a commotion in the backyard. She and her husband called 911 and ran to the gate to try to create a diversion.
"I just started yamming and beating on the trashcans and screaming a hollering, trying to get the attention of the dogs," said Steve Hutcherson.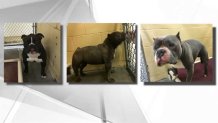 The female victim was caring for the three dogs who are reportedly owned by a family member. Neighbors were concerned and said they did not know the pit bulls were in the victims' yard.
"I don't care for them, I think they are wild animals," said neighbor Woody Holmes. "If they're out in public they should have muzzles on them."
The 3-year-old boy was taken to a trauma center at Children's Hospital in Oakland and the 47-year-old mother was taken to the John Muir Medical Center in Walnut Creek.
"The ears, on the right side and left side was pretty much chewed up," said Steve.
The boy is in critical condition and his mother is in stable condition, police said Saturday.
"If the officers hadn't gone in the way they did, I believe the victims would have been killed in the backyard by the dogs," Darden said.
The dogs are in a 10-day quarantine to determine if they have rabies or other concerns that could affect the two attack victims. Police continue investigating the incident.
"Some of the other injures she had just triggered me because you know, to see someone lying there fighting for her life and her child's life, I haven't been able to sleep," Steve said.