A mural that actor and director James Franco created at his former high school was painted over this week, an erasure that has divided some members of the school community.
Franco, a 1996 graduate of Palo Alto High, has visited the school multiple times to give back. According to campus publication The Paly Voice, the school's principal, Kimberly Diorio, ordered the paint job due to allegations of Franco's sexual misconduct.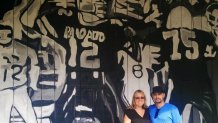 Some in the school community did not agree the work depicting football players should be covered up.
"It's gone. The history is erased," senior Peter Gold said. "Not many movie stars come back to their high school to do things like this, and we disrespected him like that? That's ridiculous."
The Golden Globe winner created the mural in 2014. He also painted several pieces that still hang in the school's media arts center.
Esther Wojcicki was Franco's journalism teacher and was on the fence about the move.
"I support the principal and what she did. She pretty much had to take down the mural because she was responding to the community, which I think is really important," Wojcicki said. "But I think that he has not been given an opportunity to defend himself."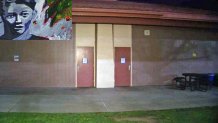 Other students said the mural needed to go.
"I think it's most progressive if we try to distance ourselves from anything like that," senior Grace Kitayma said.
Principal Diorio could not be reached for comment Wednesday night.
Last month, Vanity Fair erased Franco from its newly released Hollywood Issue cover.
Allegations against Franco emerged after the actor wore a Times Up pin in solidarity with victims of sexual misconduct, assault or abuse in the workplace to the Golden Globes while being honored for "The Disaster Artist."
Five women accused Franco of sexual misconduct in an article in The Los Angeles Times. Two of the women later appeared on "Good Morning America."

One of them, Violet Paley, said that after beginning a romantic relationship with Franco he pressured her into performing oral sex on him.
Other allegations included that Franco took advantage of his role as an acting teacher and mentor figure by creating "exploitative environments for non-celebrity women on his sets," as accuser Sarah Tither-Kaplan said on "GMA."
Franco's representative has said that the claims are not accurate.
"If I've done something wrong, I will fix it. I have to," Franco said during an interview on "The Late Show with Stephen Colbert."
In an interview with Seth Meyers, he said, "Like I said, there are stories that need to get out. There are people that need to be heard. I have my own side of this story, but I believe in these people that have been underrepresented getting their stories out enough that I will hold back things that I could say just because I believe in that much. If I have to take a knock because I'm not going to try and actively refute things, then I will, because I believe in it that much."
Media arts teachers at Palo Alto High say it's up to them if the rest of Franco's works stay on campus.