Police have arrested a suspect in connection with multiple indecent exposure incidents in the East Bay.
Joseph Ironteeth Angelle, 31, who is believed to be a transient, was arrested in San Jose on Thursday, according to the Fremont Police Department.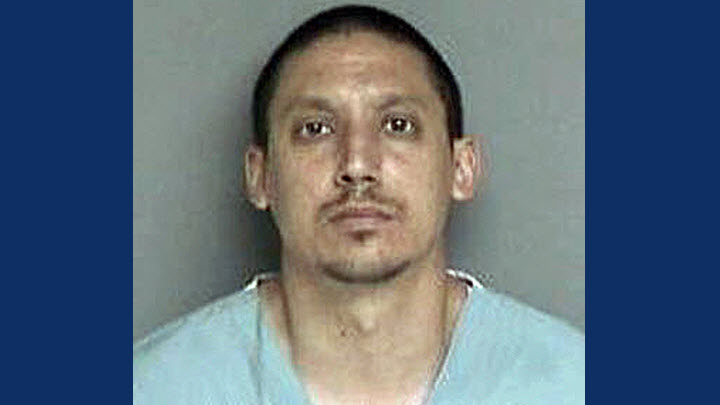 Fremont detectives believe he is connected to indecent exposure incidents in Fremont, Newark and Pleasanton. He was captured on a home security camera in the Pleasanton incident, police said.
A screen grab from the video shows a distinct tattoo encircling Angelle's upper arm. The tattoo is similar to one reported on a suspect's arm in an incident on June 21 in Fremont. That tattoo was described as a thin green ring or band that was similar to barbed wire or a rose stem with thorns.
Fremont police say the first case connected to the suspect was reported at 12:39 a.m. on June 15, when two females inside a home on the 42800 block of Deauville Park Court looked outside and saw a man touching his genitals.
The second occurred shortly after 2 a.m. June 21, when a burglary suspect exposed himself to a resident on Andromeda Circle. The woman awoke after hearing someone inside the home. The naked suspect, who had entered through an unlocked sliding glass door, was standing near her bedroom doorway masturbating, police said. The woman screamed to alert other residents at the home and the suspect fled on foot.
"I was surprised, I wondered why he had picked that house, what was it? Had he gone there before?" said Fremont resident Jennifer Meure.
The third and fourth incidents were reported on June 27. About 9:15 p.m., two victims sitting in a car on the 39000 block of Blacow Road saw a naked man touching his genitals approach them. He tried to speak to them, police said. The suspect fled and got into a vehicle described as a newer model Cadillac SUV crossover 4-door, with dark-tinted windows.
Less than an hour later, about 10:07 p.m., in the 1400 block of Red Hawk Circle, the naked suspect approached a female victim who was walking her dog at an apartment complex.
On Saturday night, Newark was added to the list of cities with indecent exposure incidents, leading police to believe the same suspect might be involved.

Marianne Favro contributed to this report.
Copyright BAYCN - Bay City News