Grass fires and downed trees cropped up throughout the Bay Area Friday because of the dry, gusting winds rushing through the region.
Red flag warnings were in place due to fierce winds and low humidity, which is expected to continue until Saturday morning.
A grass fire that started south of state Highway 12 in the Suisun City area Friday afternoon grew to about 1,000 acres early Saturday, a Cal Fire spokesman said.
The eight-alarm fire, which happened about one mile south of Travis Air Force Base, is 100 percent contained, Cal Fire said as of 4 a.m. Saturday.
Solano Fire reported Saturday evening the fire charred a total of about 1,500 acres.
The blaze, which was driven south by strong winds, triggered evacuations and road closures in the Grizzly Island Wildlife Area, according to Dixon Fire Chief Aaron McAlister. It burned a hay barn and a couple of cars.
Another grass fire in Vallejo was reported about the same time as the one near Suisun City.
A two-alarm vegetation fire shut down an eastbound Interstate Highway 780 off-ramp in Benicia Friday afternoon. The grass fire near the highway and East Fifth Street was reported just before 3 p.m.
And in Livermore, Alameda County firefighters battled a 150-acre blaze in grassy fields near Highland and Manning roads, where they were able to contain it before 10 a.m.
In Contra Costa County's Martinez, a small grass fire was sparked about 12:45 a.m. Friday at the Tesoro Refinery.
And smoke from a wildfire that burned 500 acres in the Lake Berryessa area wafted all the way to San Francisco, so that residents in the city about 80 miles away reported smelling it. As of late Friday afternoon, Cal Fire said the Napa County blaze was completely contained.
MORE: Red-Flag Warning: Fire Alert in Effect Until Saturday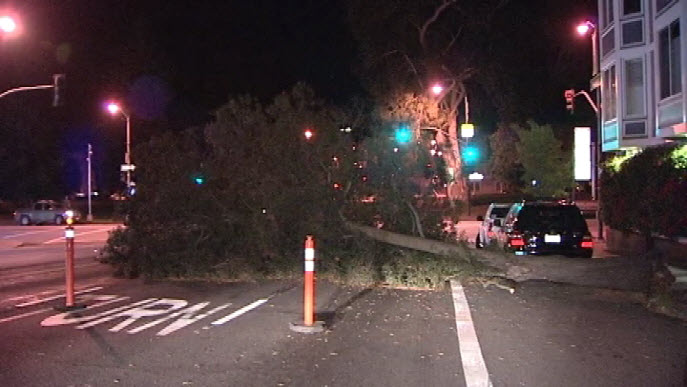 Aside from fires, the gusts were also being blamed for why a tree fell in San Francisco on Masonic Avenue and Fell Street near the Panhandle, and why scaffolding fell into power lines at 20th and De Haro streets in Portrero Hill.
Meanwhile, the California Highway Patrol issued a high wind advisory for the Dumbarton and Bay bridges.
According to the National Weather Service, winds could reach up to 50 mph, with the fiercest winds in the North Bay mountains and East Bay Hills.