Service members across the United States are waiting months and even years for the military to investigate injury claims that can open the door to critical medical benefits.
An NBC Bay Area investigation first exposed that the California National Guard had grossly failed to complete injury investigations within the military's specified timeline. Records show that California had more overdue investigations than any other state in the nation in 2013.
Now a new review of military records and government reports, as well as testimony from current and former service members, reveals the problem is bigger than just California.
Army National Guard records from January 2013 show injury claims were backlogged in every state in the nation. The overdue rate reached 99 percent in some states, including Alaska and West Virginia. By April 2015, the backlog decreased, but half of the states still posted overdue rates greater than 60 percent.
While the National Guard has acknowledged a history of missed deadlines, promised to reduce the backlog and taken steps to complete pending claims, recommendations from the federal government to fix the problem have been ignored for at least five years.
The investigations, called line of duty (LOD) claims, determine if a Guard member's disease, illness or injury happened while in service to the country, including during a drill weekend or on an overseas deployment. An approved claim entitles soldiers and airmen to incapacitation pay and monetary compensation, as well as hospital benefits if they need medical help in the future.
The Guard is supposed to complete the claims investigations 75 calendar days after an incident, but NBC Bay Area found service members have waited upwards of two, three and four years.
Grown men who defended the country on the battlefield have been reduced to tears discussing the difficulty of navigating the National Guard's claims system. Some service members have amassed boxes of correspondence with the military about what should be a fairly simple process. The runaround has taken a toll on their personal lives, their health and their finances.
"It was just a nightmare," said Staff Sergeant Roger Rees of the Florida National Guard, who says he waited more than nine years for the Guard to complete his line of duty investigations.
During his 20 year career in the military, Rees served in the Navy, Army and National Guard. His experience includes combat tours in Iraq and Afghanistan, where he says his life was in danger every day. But for Rees, and so many other soldiers and airmen, the real fight started when he returned home.
"The part that was hard for me to take wasn't the combat," Rees said, "but coming back with the injuries and being pretty much thrown away by the Guard."
Rees says the military failed to start his paperwork in two separate instances. First, after he blew a disc in his back on a training mission in 2004, then after an IED blast in Iraq the following year left him with hearing loss and a concussion.
Because he didn't have proper documentation, Rees says he didn't receive incapacitation pay and couldn't access military financial benefits when he needed surgery.
"I wound up paying out of pocket," he said. "For the eight months I was out of work I used up all my savings and damn near lost my house."
Nearly a decade after his injuries, Rees discovered that the Guard failed to complete his line of duty investigation for injuries he sustained in the IED explosion. Instead, the Guard informed him earlier this year that his claim was "administratively closed." The Guard completed his other line of duty investigation in 2014, but not before filling out the paperwork with inaccurate information twice.
"No soldier should have to go through this," Rees said.
The problem affects so many soldiers that earlier this year, Congress asked the Government Accountability Office (GAO) to review the Army National Guard's line of duty system. Nearly three quarters of the investigations the office analyzed in January did not meet military deadlines.
"We believe the data speaks very loudly that there is a problem," said Brenda Farrell, the GAO's Director of Defense Capabilities and Management.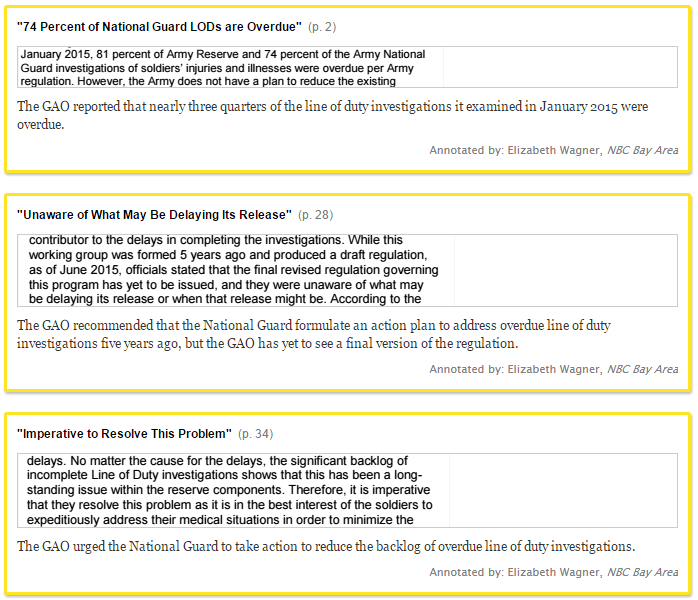 Farrell urged the National Guard to fix the backlog in a report she released this summer.
"It is imperative that they resolve this problem as it is in the best interest of the soldiers to expeditiously address their medical situations," Farrell wrote. "No matter the cause for the delays, the significant backlog of incomplete Line of Duty investigations shows that this has been a long-standing issue within the reserve components."
In fact, Farrell's office originally recommended an action plan five years ago. A military working group produced a draft regulation, but the final version has yet to be issued.
"This is something that needs careful oversight," Farrell said. "They need an action plan of how to reduce the backlog and they need to move quickly to put someone in charge."
The National Guard Bureau declined interview requests, citing an anticipated Department of Defense policy change on LODs. The department declined to provide details about the new policy or when it will be implemented.
In an email the bureau said it has reduced the backlog by nearly 20 percent in the past two years and is "optimistic that delinquencies will continue to improve."
"The National Guard has an inherent responsibility to our soldiers and airmen to aggressively investigate all line of duty investigations in a timely and accurate manner," bureau spokesman Maj. Earl Brown wrote in a statement. "We must also be mindful of being good stewards of tax payer dollars when adjudicating claims and verify that for purposes of determining a covered condition, the Guardsman's injury, illness, or disease was not a result of his or her gross negligence or misconduct."
The state military departments in Florida and New Mexico say they have recently hired additional medical providers to help process injury claims requests. The California National Guard says it has increased training across the state.
But the bureau has provided few details about why the National Guard has failed to meet the military's deadlines. Guard officials say service members add delays by reporting their injuries and illnesses late. They also say Guard members sometimes fail to submit requested documents. Insiders have pointed to inefficiencies with the military's computer tracking system.
Critics are growing tired of the excuses.
"It's not that difficult," said attorney Jason Perry. "You can get it done in a timely manner. There is no reason or excuse for the delay."
Perry processed line of duty requests when he was in the Massachusetts National Guard. Now he represents members of the military trying to navigate the complex military benefits system. Perry says the National Guard has failed to prioritize this issue and leaders should pay the consequences for letting down service members.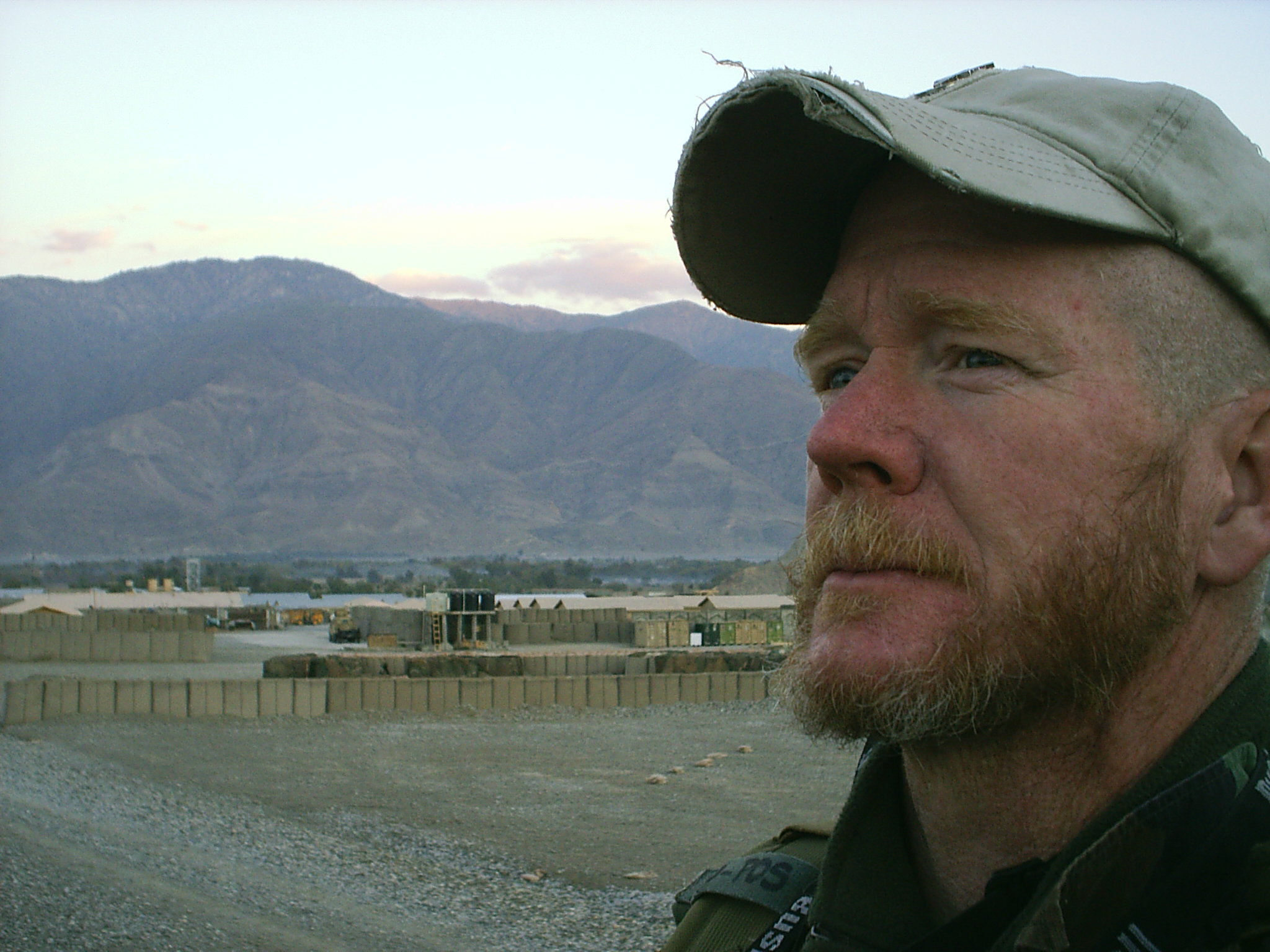 "If you do not meet obligations to take care of soldiers and airmen," Perry said, "you are not going to have a job any longer.
After waiting nearly a decade for the military to resolve his line of duty investigations, Rees is now warning other soldiers to stay away from the National Guard.
"I love the Guard," Rees said. "But at the same time until the problems are corrected I wouldn't recommend anybody going. I want the problems to be corrected and I want to take pride in what I did and what others do."
If you have a tip for the Investigative Unit email theunit@nbcbayarea.com or call 888-996-TIPS.