NBC Bay Area reporters, anchors and other employees spent Saturday at their local Safeway store for the station's annual food drive.
We partnered with Safeway for a one-day effort to benefit Bay Area Food Banks, a collaboration of eight food banks serving over 600,000 local residents each month.
The "End Hunger Now" event took place at 165 Safeway locations throughout the Bay Area. One of our goals is to make it easy for community members to participate and help feed their neighbors in need.
Shoppers were asked to buy a $10 bag of groceries; enough to feed an entire family.
The bags include items such as rice, stuffing, canned vegetables and cranberry sauce.
Once collected, the bags will be delivered to food banks. All of the food will stay local and that means every donation truly helps one neighbor help feed another.
The bags will be available for purchase through December 25.
The food bank reported this year's numbers blew the doors off of last year's one day food drive.
NBC Bay Area viewers (and Safeway shoppers) donated 26,929 bags of food Saturday. Last year during the same timespan, we gathered just over 18,000 bags.
NBC Bay Area meteorologist Rob Mayeda was not surprised to hear the number. He said he noticed a huge increase in engagement this year at a Safeway in Danville.
Janelle Wang also noticed the increase at a Safeway in Menlo Park.
The total food collection for all of last year was 58,000 bags of food during the month long effort. We got nearly half that amount in one day.

"We are proud to support our local food banks and bring much needed attention to hunger in the Bay Area," said Rich Cerussi, NBC Bay Area President and General Manager. "We welcome the opportunity to inspire viewers to donate during the holidays and throughout the entire year.

For the last three years, NBC Bay Area has partnered with Safeway to help stock the shelves of local food banks.
"We thank NBC Bay Area and Safeway for bringing attention to the severity of local hunger and for creating a simple way for anyone in our community to help a family in need," said Kathy Jackson, Second Harvest Food Bank CEO. "Bay Area Food Banks are feeding people in every neighborhood and through this drive you can donate to make a difference in the lives of people where you live."
So that is why this weekend you might have run into to one of our reporters or anchors as they encouraged shoppers to donate food items.

"We are proud to be partnering with our area food banks and these important volunteer organizations on this community-wide collection effort," said Karl Schroeder, President of Safeway Northern California. "Assisting people who need a helping hand during the holidays and throughout the year is an important part of Safeway's giving programs."
The food drive is far from over. Safeway will be collecting money, food and those $10 bags of food through Christmas Day.


We aren't the only ones doing a food drive this weekend. San Francisco's "Canstruction" is a way for architects, engineers and contractors to give back to the communities in which they help build. An expected 70-thousand cans of food are expected to be donated, it will be the largest one-day donation in San Francisco food bank history.
Alameda County
Alameda - 867 Island Drive
Alameda - 2227 South Shore Ctr
Albany - 1500 Solano Avenue
Berkeley - 1444 Shattuck Place
Castro Valley - 20629 Redwood Road
Castro Valley - 4015 E. Castro Valley
Dublin - 4440 Tassajara Road
Dublin - 7499 Dublin Blvd
Emeryville - 3889 San Pablo Ave
Fremont - 39100 Argonaut Way
Fremont - 3902 Washington Blvd
Fremont - 46848 Mission Blvd
Hayward - 231 W. Jackson
Hayward - 22280 Foothill Blvd
Livermore - 1554 First Street
Livermore - 4495 First Street
Newark - 5877 Jarvis Ave
Oakland - 4100 Redwood Road
Oakland - 2096 Mountain Blvd
Oakland - 5130 Broadway
Oakland - 6310 College Avenue
Oakland - 3550 Fruitvale Avenue
Oakland - 3747 Grand Avenue
Oakland - 610 Hegenberger Rd
Pleasanton - 6790 Bernal Avenue
Pleasanton - 1701 Santa Rita Road
San Leandro - 555 Bancroft Avenue
San Leandro - 1499 Washington Ave
San Leandro - 699 Lewelling Blvd.
San Leandro - 555 Floresta Blvd.
Union City - 1790 Decoto Rd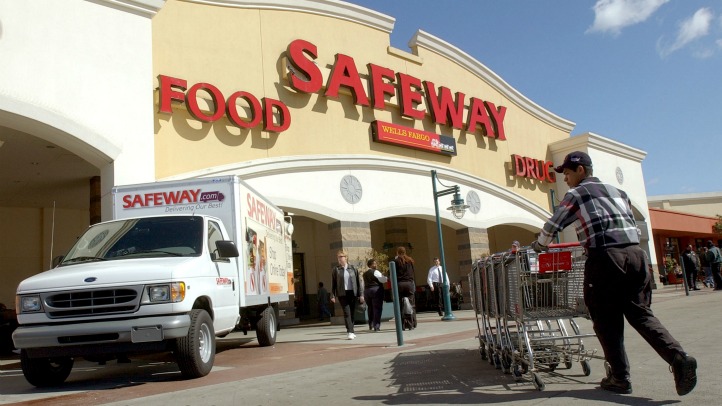 Contra Costa County

Alamo - 200 Alamo Plaza
Antioch - 3365 Deer Valley Rd.
Bay Point - 660 Bailey Road
Brentwood - 1125 Second St.
Brentwood - 3110 Balfour Road
El Cerrito - 11450 San Pablo Ave
Pinole - 1421 Tara Hill Drive
Clayton 5431 - Clayton Rd
Concord - 2250F Monument Blvd.
Concord - 2600 Willow Pass Rd.
Concord - 4309 Clayton Rd
Danville - 3496 Camino Tassajara
Discovery Bay -14840 Hwy. 4
Lafayette - 3540 Mt. Diablo Blvd.
Martinez - 3334 Alhambra Avenue
Martinez - 6688 Alhambra Avenue
Moraga - 1355 Moraga Way
Mountain View - 570 N. Shoreline Blvd
Mountain View - 2580 California
Mountain View - 1750 Miramonte
Orinda - 2 Camino Sobrante
Pleasant Hill - 200 Golf Club Road
Pleasant Hill - 600 Patterson Blvd
Pleasant Hill - 1978 Contra Costa Blvd
Rodeo - 605 Parker, Building A
San Ramon - 2505 San Ramon Vly
San Ramon - 11050 Bollinger Canyon
Walnut Creek - 1980 Tice Valley Blvd.
Walnut Creek - 600 So. Broadway
Walnut Creek - 710 Bancroft Road
Walnut Creek - 2941 Ygnacio Valley

Marin

Corte Madera - 137 Corte Madera
Mill Valley - 1 Camino Alto
Mill Valley - 110 Strawberry Village, #100
Novato - 900 Diablo Avenue
Novato - 5720 Nave Drive
San Anselmo - 838 Sir Francis Drake Blvd
San Rafael - 700 'B' Street
San Rafael - 950 Las Gallinas

Napa
American Canyon - 103 American Canyon Rd
Napa - 1620 Clay Street
Napa - 3375 Jefferson St
St. Helena - 1026 Hunt Avenue
Sonoma - 477 W. Napa

San Francisco
San Francisco - 2020 Market
San Francisco - 15 Marina Boulevard
San Francisco - 3350 Mission
San Francisco - 4950 Mission
San Francisco - 2300 16Th Street
San Francisco - 298 King Street
San Francisco - 5290 Diamond Heights Blvd.
San Francisco - 625 Monterey Blvd
San Francisco - 850 La Playa
San Francisco - 730 Taraval
San Francisco - 2350 Noriega St
San Francisco - 1335 Webster
San Francisco - 350 Bay St
San Francisco - 735 7Th Avenue
San Francisco - 145 Jackson St.
San Mateo

Belmont - 2100 Ralston Avenue
Belmont - 1100 El Camino Real
Burlingame - 1450 Howard Avenue
Daly City - 85 Westlake Mall
Foster City -0999 921 E. Hillsdale Blvd.
Half Moon Bay - 70 No. Cabrillo Hwy.
Menlo Park - 325 S. Sharon Park Dr
Menlo Park - 525 El Camino Real
Millbrae - 525 El Camino Real
Pacifica - 1380 Linda Mar S.C.
Pacifica - 12 Plaza Dr.
San Mateo - 100 Crystal Springs Center
San Mateo - 860 N. Delaware St.
San Mateo - 1655 El Camino Real
S San Francisco - 30 Chestnut Avenue
S San Francisco - 170 El Camino Real
S San Francisco - 2255 Gellert Blvd.
Burlingame - 1450 Howard Avenue

Santa Clara

San Jose - 179 Branham Lane
San Jose - 6477 Almaden Road
San Jose - 6150 Bollinger Road
San Jose - 1663 Branham Lane
San Jose - 5146 Stevens Creek
San Jose - 1300 W. San Carlos
San Jose - 1530 Hamilton Avenue
San Jose - 4950 Almaden Expwy
San Jose - 2558 Berryessa
San Jose - 1771 E Capital Exp
San Jose - 3002 Story Road
Santa Clara - 2760 Homestead Road
Santa Clara - 2605 The Alameda
Santa Clara - 3071 Stevens Creek
Santa Clara - 3970 Rivermark Plaza
Campbell - 2341 So. Winchester
Campbell - 950 W. Hamilton Ave
Gilroy - 905 First Street
Los Altos - 160 First Street
Los Gatos - 1500 Pollard Road
Los Gatos - 15549 Union Avenue
Los Gatos - 470 N. Santa Cruz Ave
Milpitas - 555 E. Calaveras Blvd.
Morgan Hill - 840 E. Dunne Avenue
Morgan Hill - 235 Tennant Station
Palo Alto - 2811 Middlefield Road
Saratoga - 12876 Saratoga-Sunnyvale
Sunnyvale - 1601 Hollenbeck
Sunnyvale - 639 S. Bernardo Ave.
Sunnyvale - 785 E. El Camino Real
Sunnyvale - 150 E. El Camino Real

Solano

Benicia - 50 Solano Square
Dixon - 1235 Stratford Ave.
Fairfield - 2401 Waterman Blvd.
Fairfield - 5051 Business Center Dr.
Healdsburg -1115 Vine
Vacaville - 2090 Harbison Drive
Vallejo - 709 Lincoln Road W.
Vallejo - 774 Adm Callaghan
Vallejo - 122 Robles Way

Sonoma

Petaluma - 373 So McDowell Blvd
Rohnert Park - 6340 Commerce Blvd
Santa Rosa - 100 Calistoga Road
Santa Rosa - 1799 Marlow Road
Santa Rosa - 2785 Yulupa Ave.
Santa Rosa - 2751 Fourth Street
Santa Rosa - 2300 Mendocino Ave.
Sebastopol - 406 No. Main
Guerneville -16405 Highway 116
Windsor - 9080 Brooks Road