Drug-cartel violence at tourist hot spots in Mexico—that is just one reason the United States Department of State recently issued a travel warning for Americans planning to visit Mexico.

But the NBC Bay Area Investigative Unit found out there is no standard on how the State Department decides to issue travel advisories. We discovered that the State Department cannot verify the accuracy of all of the information it uses to decide whether to declare a travel warning or travel alert.

That leaves some wondering if Americans are getting an accurate picture of how much crime is happening in Mexico.

In February 2009, Susan Connor and her husband Timothy rented a condo overlooking the ocean in Puerto Vallarta. But their romantic getaway turned unimaginable when Susan says an intruder trying to rob them broke into their condo while they were asleep. She says the man grabbed a knife from their kitchen, and while Timothy tried to fight him off, he was stabbed to death.

"He just bled out right in front of me," Connor told investigative reporter Elyce Kirchner. "There was nothing I could do. Nothing."

"You are watching your husband die right before your eyes?" Kirchner asked.

"I watched him die," Connor said. "I watched him take his very last breath. It's definitely a memory that will be burned in my memory forever."

A year after Timothy Connor's death, the State Department issued its initial travel warning for Americans visiting Mexico.

Susan Connor wishes that had happened before their trip.

"We knew there were dangers there," she said, "but we had no idea it was that bad there."

According to the State Department, in 2009—the year that Timothy was killed—78 Americans were victims of homicide in Mexico. The number jumped to at least 113 last year.

The number of Americans reported to the State Department as murdered abroad is only made public because the United States government is required by law to disclose the information.

But that is where it ends.

"The way we will determine that we have arrived at a level that requires a travel warning is by monitoring a lot of different sources," said Hugo Rodriguez, head of the State Department's American Citizens Services section.

Rodriguez says there is no specific criterion or magic formula for issuing a travel advisory, so he cannot say exactly how the State Department made its decision to declare a travel warning in Mexico.

"We are not looking to get above a certain bar to trigger a travel alert or travel warning," Rodriquez said. "Our regional security and our consular officers overseas are constantly monitoring the local situation. They work with local law enforcement authorities."

In turn, law enforcement agencies, as well as foreign non-governmental organizations and domestic nonprofits, give their statistics to the State Department.

For example, according to Mexico's Attorney General, the country had more than 28,216 homicides between January and September of 2011.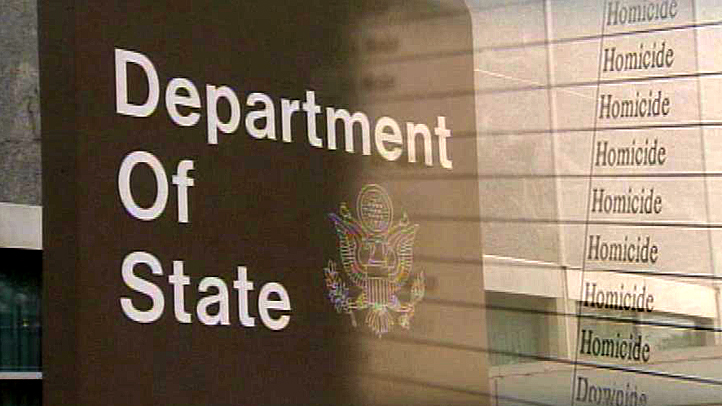 Reforma, one of Mexico's largest newspapers reports more than 12,359 drug-related killings last year. According to the publication, that is up from 2,119 in 2006.

But the U.S. government doesn't make those statistics public because officials say they cannot guarantee the accuracy of the information.

This February for the first time, the State Department issued a travel warning that pinpoints dangerous areas in 18 of Mexico's 31 states. U.S. officials provide briefings of areas within those states on the State Department website.

U.S. officials advise Americans to use caution when traveling at night in Jalisco, the state where Puerto Vallarta is located. They also recommend that travelers use caution at night in Baja California, the state where the popular tourist destination of Tijuana is located. According to the website, "Turf battles between criminal groups proliferated and resulted in numerous assassinations in areas of Tijuana frequented by U.S. citizens."

Throughout the world, 31 countries are now under travel warnings. But the State Department distinguishes Mexico as a country where its government makes a considerable effort to protect Americans in major tourist destinations.

The U.S. government only issues travel alerts in countries experiencing short-term events like a natural disaster or election-related uprisings, for example. There are currently four countries worldwide with that classification.

"They should be telling them upfront how many people have been lost in those countries," said John Dussich, criminology professor at Fresno State University who specializes in crime in Mexico. "I would like to see a better, honest response from the data that we have."

Kirchner asked him, "Are Americans getting an accurate picture of how often crime is happening in Mexico?"

"I don't see how they could," Dussich said. "One of the first requirements of getting an accurate picture is you have to have some measurement that's credible and that's valid on a regular basis."

Travel lawyer Al Anolik believes the government's travel advisory system is influenced by insiders. He represents two of the largest U.S. travel agencies operating in Mexico.

"The travel agents don't want it—bad for business," Anolik said. "The local tourism governments, they don't want it. Bad for business. That's your issue."

Rodriguez says Americans are primarily responsible for their own security when they travel abroad.

"We want to make sure that Americans are making smart choices," he said.

Susan Connor has no plans to travel back to Mexico. She says it is a place that brings back too many painful memories of her husband's death.

"I miss him of every second of every day," she said.

Unlike many of the other countries currently under a travel warning such as Syria or Libya, U.S. officials note that every year millions of Americans safety visit Mexico every year, including more than 150,000 people daily.