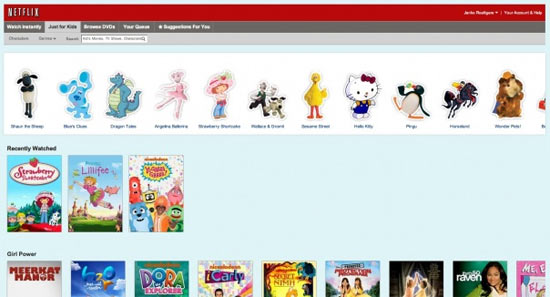 If your livingroom is anything like mine, it's the young people who quickly figure out all the new technology. Streaming, DVR-ing, how to turn all the remotes on at the same time.
It's those young people Netflix is now trying to reel in. The Los Gatos movie streamer is adding a new "Just For Kids" tab with close to 1,000 movies and TV shows geared for younger viewers.
Just like its other recent - and less popular - moves, this one is also aimed at increasing the amount of streaming you do. Netflix won't include titles available on by in the mail DVDs .. these 1,000 titles are for streaming only. Trust me, your kids will get it quickly, if they don't know how to do it already;.
The "Just For Kids" videos can be accessed from your TV, or the mobile devices (like an iPad) used more frequently than ever to stream our entertainment. Netflix says kid titles are among their most popular.
It'll be interesting to see if they increase the number of good kid movies because of this - one criticism I often hear from parents with Netflix is that there aren't all that many good kid movies to stream.
Stay tuned; more should be on the way.
Scott can be followed on Twitter: @scottbudman