A crane will be brought in to inspect the cracked window on the 36th floor of the tilting Millennium Tower as officials there race to meet a Friday deadline imposed by the city to vouch for the safety of the building given the latest trouble at the troubled high-rise.
"Obviously there's heightened awareness given the history of the building," said Steven Mayer, president of the Millennium Tower Homeowners Association about the crack first reported by NBC Bay Area that shattered fragile nerves at the building that is now tilting 18 inches to the northwest.
"Preliminary reports are that it appears to be anomalous but we are not done yet with inspections," said Mayer, a software engineer who lives in a different part of the building but just one story above where the window failed.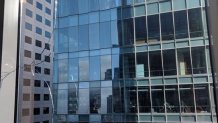 The crane will help perform an exterior inspection of the cracks that now riddle the exterior pane of the dual paned window, Mayer said. "We'll know better in the next three days."
The city Department issued a citation Tuesday and gave the building until Friday to assess the cracked window and report back on what caused the failure in a window that is supposed to be able to safely handle both earthquakes and hurricanes.
Tom Miller, an attorney for the homeowners association, says any danger from the failed window has been eliminated because it is now secured with silicone sealant. "The sealant is holding the pieces of glass together and there's no likelihood of any piece of glass breaking off and falling."
While the crack is at the northwest corner of the building, where it is tilting the most, that may just be a coincidence, Miller says. He says the window may have failed because of a simple construction defect, Miller says.
"We don't know, but we're going to do further investigation to find out whether it's really isolated or whether this is a systemic problem in the building."
The window is expected to be replaced in two weeks. Meanwhile, San Francisco Supervisor Aaron Peskin wants the city to bring in experts to independently assess the danger to the pedestrians hundreds of feet below.
"I want to make sure we have our bases covered because this is a public safety hazard," he said Wednesday.
Jerry Dodson, an engineer and attorney living in the tower, says people in the building could use some outside help to ease their fears.
"It's an alarm, and it has made people in the building nervous," he said in an interview in his 42nd floor unit. "At this point we need a report from the city as to what's going on. I think with a building that is sinking, tilting and twisting, it shouldn't be a surprise to anyone that you have failures in the building."