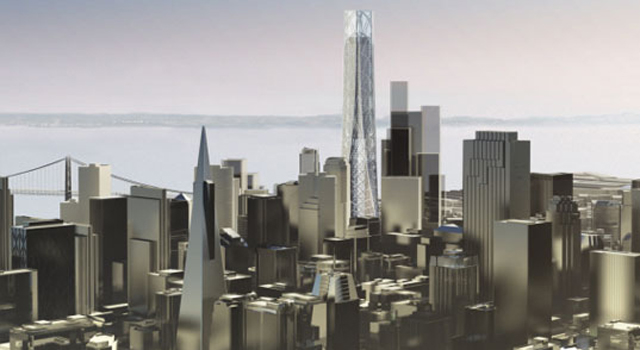 Plans for San Francisco's tallest building have been changed to be less grand, but if built, the "skyline-busting" skyscraper next to the Transbay Terminal would still be quite the edifice.

New plans for a 60-story, 1,070-foot tall building at First and Mission streets have been submitted to the city, according to the San Francisco Chronicle. That'd make for 1.35 million square feet of office space soaring 220 feet above the city's current tallest building: the Transamerica Pyramid, built in 1972.

While scaled back, the plans prove that there's faith in the city's economy, especially in the office-hungry technology sector, according to the newspaper.

The building could be completed in 2016 at the absolute earliest, the newspaper reported. That's dependent on plans for the new Transbay Terminal, which would be next door to the huge building, being approved in May.

Original plans for the building called for it to be 200 feet higher, and have about 550,000 extra square feet of office space.

The building would be shrouded in glass painted "pearlescent white," the newspaper reported. It should "glint even on cloudy days," an expert said. Shiny!

The top 150 feet of the building would be an empty crown, with metalwork "encasing only air," the newspaper said.
Copyright FREEL - NBC Local Media