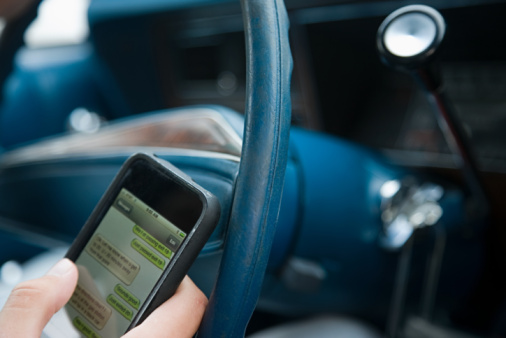 California's ban on texting while driving is supposed to make the roads safer, but it might be having the opposite effect.
The non-profit Highway Loss Data Institute compared insurance claims in California, Louisiana, Minnesota and Washington state before and after their respective bans went into effect.
In California and two other states, the rate of collisions actually went up slightly.
The Golden State saw a 12 percent bump in accidents among drivers 25 years old and younger.
So, what gives?
Researchers think drivers are TNDWHFP: Texting 'N' Driving While Hiding From Police.
Instead of texting at eye level like we used to before the bans went into effect, drivers now text from their laps, out of the sight of passing cop cars.
"This could exacerbate the risk of texting by taking drivers' eyes further from the road and for a longer time," said Adrian Lund, president of the Highway Loss Data Institute and the Insurance Institute for Highway Safety.
The Institute says it doesn't condone texting while driving, realizing that it is very dangerous.
"There's a crash risk associated with doing this. It's just that bans aren't reducing this crash risk," Lund said. "The point of texting bans is to reduce crashes, and by this essential measure the laws are ineffective."
U.S. Secretary of Transportation Ray LaHood calls this study "completely misleading." He points out that distracted driving deaths have stopped increasing ever since bans on texting while driving went into effect.