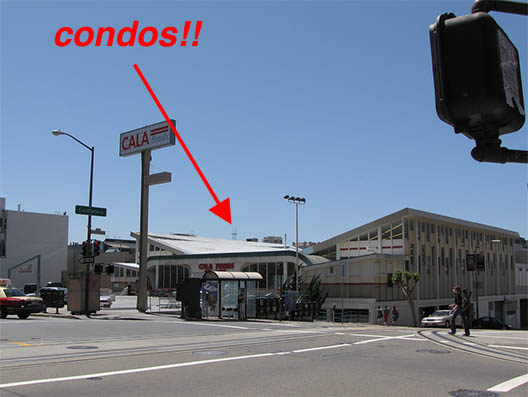 The city's last Cala Foods, in Nob Hill, closes on Dec. 31 this year— to be replaced by six to eight stories of 107 condos with ground-floor retail, including a new grocery store.
The development team is none other than the one that's bringing Upper Market the Whole Foods condos at the old S&C Ford dealership: Prado Group and cradle-to-cradle eco-design firm William McDonough + Partners.
At the moment, Cala shoppers are on the edge about losing their supermarket, and have also raised concerns about the affordability of whatever new grocer will take its place (they're lookin' at you, Whole Foods). But this is not all unexpected.
A year ago, a property management guy was quoted as saying Cala was pulling in $23 mil a year— but the money Prado was forking over was "too good to refuse," given the huge lot that Cala sits on. So when are the condos coming? Assuming permits by summer 2010, Prado aims for construction in 2011, to be done by summer 2012.
· Grocery worries mount [SF Examiner]
· Rendering Reveal: Whole Foods Greens Dolores [Curbed SF]
Copyright CURBS