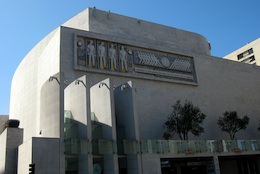 The final tally is in: Nob Hill NIMBYs 0: Masonic Center 1.
Thursday night, the San Francisco Planning Commission approved the planned upgrades for Nob Hill's Masonic Center, unleashing upon the neighborhood up to 95 nighttime events a year.
Neighborhood opposition promised more talks would ensue with Live Nation, who's leasing the venue from the Masons (and who's planning the upgrades), but that they would also appeal the decision to the Board of Supervisors.
The upgrades don't actually sound like much — tearing out some seats, terracing the auditorium, and installing a kitchen and bar areas — but it's the increase in frequency and crowds that has the posh neighborhood drawing their curtains a little tighter.
Said one: "I don't think any self-respecting city in the world would allow such an inappropriate use."
But one commissioner, who happens to be black, read between the lines and called it as she saw it: "They don't want people like me, who look like me, coming to Nob Hill."
Or maybe they just don't want those kids, with their rock and roll.
Copyright CURBS