Sofas, lamps, closets, TVs, fridges, microwaves, mirrors, mattresses — entire living rooms, kitchens, bedrooms aka people's lives are on display on the sidewalks and side streets of Guerneville, California after a historic flood submerged this picturesque river town some 70 miles north of San Francisco, turning it into a tiny island.
As you walk past wine bars, restaurants and yoga studios on Main Street — the main drag downtown — you can't help noticing how the angry floodwaters from the Russian River have receded, leaving behind a muddy streak on hedges, fences, houses, barns, storefronts — pretty much everything.
Guerneville residents are spending most of their time cleaning up, removing debris, looking for toxic waste and taking out bags of garbage — but the trash keeps piling up. And there's no end in sight.
One of the few places in town that doesn't have trash right now is the local K-8 school — the only one in the Guerneville School District. Guerneville School was closed for three days — a total of nine days this school year if you take into account the recent wildfires and the creeks overflowing over Valentine's Day. But on Tuesday, 270 students returned to class. Their classrooms, built on higher ground, were spared, but the playground and outdoor facilities were not as lucky.
"We estimate $300,000 to $700,000 in damages," Superintendent Dana Pederson told us over the sound of power-washing. "Also, for every day we are open, and students don't come, we will also financially take those hits."
The school's maintenance equipment got trapped under seven-feet of water, which moved entire chunks of concrete, damaged the playground turf, shifted tree roots and ruptured waterlines.
"You can't tell right now, but this was all sludge," Pederson said pointing at the playgrounds flanked by Sycamore trees.[[506913441, C]]
Pederson said some of her students had lost homes in the flood and she didn't know whether they would stay on in Guerneville.
The Russian River has flooded Guerneville 38 times since 1940.
"As far as water that comes onto the campus, this is the worse we have seen since 1995," Pederson said. "Who could have predicted it would get this crazy. The focus right now is to get the work done."
'Nothing But Mud, Trash And Hope:' Guerneville Tries to Rebuild After Historic Flooding
A few blocks away, outside the Russian River Community Services Center, a group of displaced residents waited in line for a hot lunch and aid from the Red Cross. Among them were John Cronin and his Australian Shepherd, Melba Martinella and her 85-year-old mother, Ebe Cerqua, and Glynis Miller and her dog "Gold Digger," whose homes had been either destroyed or damaged by the floodwaters.
As they begin the slow and painful process of getting their lives back together, Guerneville's streets continue to fill up with garbage and muddied trash. They are hopeful the federal government will step in to help.
"I Helped My 90-year-Old Neighbor Evacuate"
John Cronin got the evacuation call on Tuesday, Feb 26.
"We started packing up … My friend Gil is 90, so we got him out to Cloverdale. I got a little bit too late," Cronin said. "I barely crossed the Monorail Bridge as the water was coming up both sides … I used the wheels as a paddle. We finally hit dry pavement … We made it. You do what you need to survive."
Cronin survived the Ben Lomond flood of 1982 and the Loma Preita earthquake. "I've already been through two major disasters," he said, adding that his family has been living near the Russian River since the 1970s and was familiar with its flooding.
His house — which is one mile from the river — was inundated by 8-feet of water. "It's all mud and muck … Never live one mile from a river," he said laughing.
Cronin's dog stayed with him the whole time during the evacuation. He affectionately referred to him as a "river rat."
"I lost a bunch of stuff, but that's just stuff, what matters is people," he said.
"Everything is destroyed — the water came up to the roof"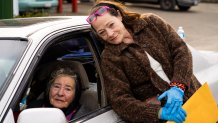 Melba Martinelli's cat went up to the roof of her mother's trailer when it flooded and hasn't come down since. "I'm afraid we lost her," she said, visibly upset.
Martinella's mom Ebe Cerqua, lost her trailer home in the flood. She came to California from Italy when she was 23, and has lived in the town for as long as she can remember.
"I told her, you have to leave now," Martinelli said, remembering the chaos of the evacuations. "Everything is destroyed, I don't know what I'm going to do — the water came up to the roof."
The trailers on Church Street are some of the worst impacted by the flooding in Guerneville. The mud is everywhere: "In the kitchen, the bathroom, and the bedroom."
But Martinelli's mother's trailer is the worst off. It had sunk to the ground, and everything inside was chalked in mud.
"I've never seen anything like this mud, it's greasy mud, and it sticks to everything," Martinelli said.
As for the floodwater, Martinelli said it went up to the ceiling. "My brother was walking out of the trailer and the water was up to his chest, and a helicopter had to pick him up out of the mess. The water's retreated, but it's left so much, everything is ruined. When they were talking about flood, I was thinking, 'it'll be a little bit in the kitchen or something,' but oh no, it came into the trailer and destroyed everything."
"Everything's covered in mud, inside and out"
"I tried to wash a pair of pants 5 times, and the mud wouldn't come out," Martinelli said. "Everyone and everything is completely mud-soaked."
She added that she doesn't know what was going to happen to the trailer. "My mother's really upset because that's the only thing she had. She really loved her trailer."
Across the street Martinelli's mother sits inside their car, holding a plastic bag in her hand. Even the car smells damp, as does a few of her clothes she was able to save in those last moments of the evacuation.
"Everything's covered in mud, inside and out," Cerqua said. "All of the cupboards, all of the drawers, I open up a drawer and it's full of water. It's just a mess. A total disaster. I don't even know if it can be cleaned."
Cerqua said she bought her trailer in 2005. "It's a nice trailer — 25-feet long. I got everything I need there. "But now everything is destroyed. It's disheartening."