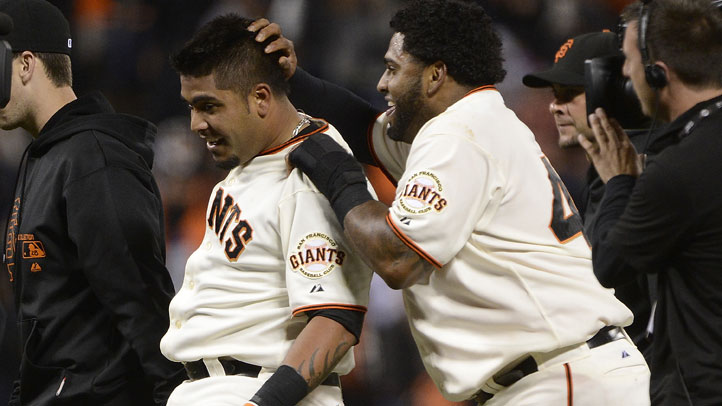 Considering Hector Sanchez was behind the plate for the last two Giants games -- scoreless outings by both Tim Lincecum and Barry Zito -- it's safe to say that the Giants would like him to be healthy.
So it's a relief that the knee sprain doesn't sound too serious, with manager Bruce Bochy saying, via Andrew Baggarly of CSNBayArea.com, that it should be "just a couple games" that Sanchez misses.
"We're hoping for the best," Bochy said. "We think it's just a couple games. We're hopeful it's what we think it is."
The injury is, apparently, so non-severe that Sanchez won't have an MRI on the knee.
"The doctor told me he saw nothing serious," Sanchez said, via MLB.com.
He hurt the knee after singling in the fourth inning and trying to beat a pickoff back to the first base. (Also possibly when Barry Zito attempted a bunt.)
"It hurt so bad," Sanchez said. "When I tried to run, I couldn't."
The result was that Buster Posey had to come in and catch Zito for the first time this season. And the results were pretty, pretty good.
"Me and Buster were joking around," Zito said. "I said Posey just snipered Hector because he wanted to catch me. We were on the same page and we didn't skip a beat. He was calling pitches the way Hector was. I hope the injury isn't serious and Hector will be back in a few days."
The Giants are hoping for the same thing -- Sanchez gives them a substantial amount of flexibility with Posey (keeping him healthy is paramount) in terms of moving him around the infield.
But Sanchez gives them a big bat, bigger even than Brandon Belt's, according to Bruce Bochy.
"Yeah, I think that's fair to say," Bochy said when asked if Sanchez' bat is better than Belt's. "Wouldn't you?"
I mean, probably not. But whatever, that's not really the point here. The point here is that Sanchez needs to come back in order to help the rotation, help Posey's health and help the Giants keep their roll going.
Hopefully everyone's correct about the lack of seriousness on his knee injury.