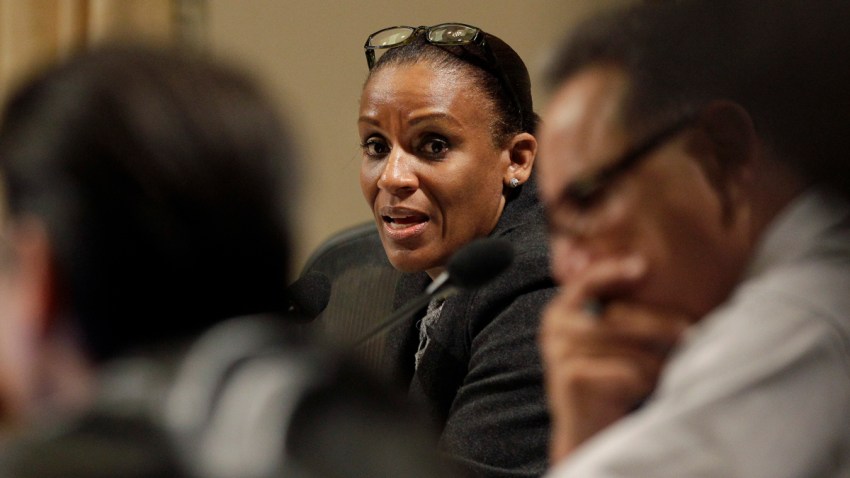 An Oakland councilwoman filed a claim against the city alleging the city attorney's office botched its case representing her in a lawsuit filed by a former Black Panther leader.
Desley Brooks filed her claim Tuesday, nearly 10 months after a jury found she pushed and punched Elaine Brown and ordered the city and Brooks to pay the former Black Panther $4 million in damages, the East Bay Times reported.
A judge later lowered the award to $1.2 million and ordered Brooks to pay $75,000 of that.
The jury found Brooks shoved Brown inside a restaurant during an argument over an affordable housing project, causing her to fall and injure her shoulder.
Brooks' attorney, Dan Siegel, said evidence not presented at trial shows Brooks acted in self-defense and that Brown has a history of threats and violence.
The city attorney's office's negligence caused "an unjustified award of significant money damages against the City of Oakland and grave harm to reputation and emotional stress to Desley Brooks," her attorney wrote in a statement.
City Attorney spokesman Alex Katz said the office defended the case professionally and diligently and that Brook's claim is "full of inaccuracies and falsehoods."
"It is not surprising that she is unhappy with the judge's ruling that she committed perjury, with the judge's and the jury's findings of fact, and with their $75,000 punitive damages award against her personally," Katz said. "We will treat her claim like any other and respond at the appropriate time."
Copyright AP - Associated Press