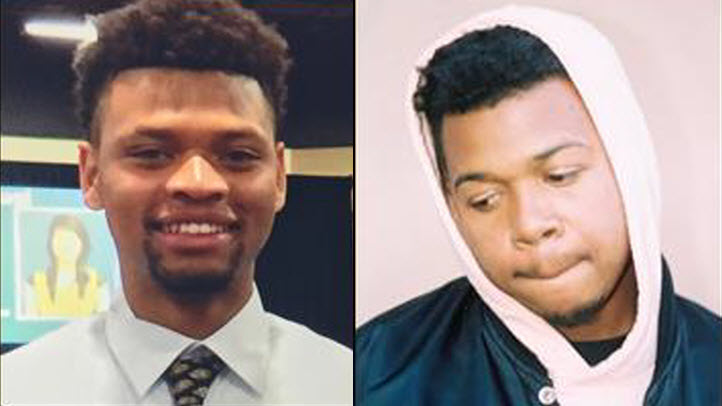 Oakland police on Wednesday asked for the public's help in solving a year-old shooting at a birthday party at a downtown art gallery that claimed the lives of two Berkeley High School graduates.
The victims in the shooting in the 300 block of 15th Street at 12:53 a.m. on Aug. 14, 2016, were 20-year-old Craig Fletcher-Cooks, who graduated from Berkeley High in 2014 and played on a youth rugby club and on the school's football team, and 22-year-old Terrence McCrary, who graduated in 2011.
Fletcher-Cooks and his girlfriend attended the party, which drew a large crowd, Oakland police Sgt. Michael Cardoza said.
But Fletcher-Cooks' girlfriend was approached by four young men in their 20s who grabbed her and tried to dance with her, Cardoza said.
He said Fletcher-Cooks stepped in and told the men that his girlfriend was with her but the men attacked him, fought him and ultimately shot him multiple times inside the gallery when he tried to protect himself.
The shooting continued outside into the street, where about 300 people had gathered and at least one of the bullets struck McCrary, Cardoza said.
Both Fletcher-Cooks and McCrary were pronounced dead at the scene.
Another bullet struck a third young man who suffered critical injuries but ultimately survived, Cardoza said.
It appears that McCrary and the third victim were victims of stray gunfire, Cardoza said.
Fletcher-Cooks was "just trying to protect his girlfriend but that cost him his life," Cardoza said.
Reflecting on the shooting, he said, "This was a tragic, tragic incident in which two young men were shot and killed and a third man was shot -- over what?"
Cardoza added: "We're seeking the community's help because hundreds of people were there. I know someone saw something and we want them to come forward even if they think their information is insignificant."
Fletcher-Cooks' cousin, Stacey Flowers, who joined Cardoza at a news conference at Oakland police headquarters Wednesday morning, said his death "has been really sad for his friends and family" and said solving the case "would allow us some type of closure."
"Nobody has been talking about this case but we need people to come forward if we want to stop these kinds of crimes," Flowers said.
Cardoza said the four suspects were young men but said police are waiting to release detailed descriptions until they have something more specific and accurate.
He said there were multiple shooters and "many, many rounds were fired."
Some of the guns that police believe were used in the shooting were later recovered at different locations, he said.
After the shooting, Keir Paasch, the head coach for the Berkeley Rhinos Rugby Club, said Fletcher-Cooks was "a leader" when he played for the club team, which he said is affiliated with Berkeley High School but not directly connected to the school.
Paasch said Fletcher-Cooks, who he knew as Craig Fletcher, was "a good kid" who would regularly come out to Rhinos practices to check on the team after he graduated.
The McCrary family issued a statement Wednesday about their lost loved one, saying that "Terrence was a thoughtful, warm, loving son, brother and friend. He was a talented skateboarder and aspiring artist. His death leaves a void in the lives of his family, friends and artist community."