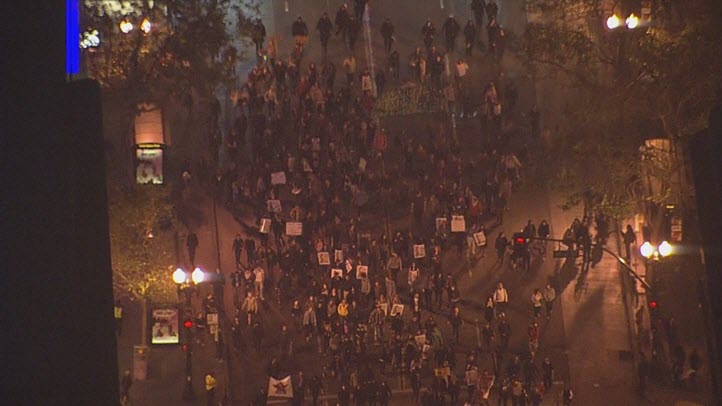 Protesters late Friday are marching through Oakland to protest police brutality.
The group of at least several hundred people has sparked service delays and disruptions in bus service, according to AC Transit officials.
The march was called in solidarity with Baltimore, where residents have been protesting the death in police custody of Freddie Gray, a 25-year-old man who died of a severe neck injury.
Reports and images from the scene indicate some vandalism to businesses is occurring, including the smashing of windows.
Earlier in the day about 500 people gathered in front of Oakland City Hall during the noon hour for the protest against police brutality and low wages for workers.
Many of the participants marched to the protest at Frank Ogawa Plaza from the Port of Oakland, where a 9 a.m. rally organized by International Longshore Warehouse Union Local 10 focused on police killings of unarmed people of color.
The march downtown was peaceful, although the large crowd, which was escorted by Oakland police, occasionally blocked traffic.
The ILWU, which says it has a history of standing up against racial injustice, moved its monthly labor meeting Friday, which effectively shut down operations at the port.
The Port of Oakland said vessel operations resumed at 7 p.m., when second-shift employees will report for work loading and unloading ships that are tied up at berths.
At Frank Ogawa Plaza, the people who participated in the Port of Oakland rally were joined by city of Oakland workers who belong to Service Employees International Union Local 1021 and are seeking better wages and benefits.
Gary Jimenez, SEIU Local 1021's East Bay vice president, said, "We're all in the same struggle against the racial brutality and economic brutality that's hit our communities."
Jimenez said the union is especially concerned about the city of Oakland's increased use of temporary part-time workers instead of hiring more full-time permanent workers.
The number of part-time workers increased 150 percent from 2008 to 2014, from 1,000 to 2,500, Jimenez said.
A disproportionately high number of those workers are black and live in Oakland, he said.
Focusing on police brutality, of the Onyx Organizing Committee and the Anti Police Terror Project said, "We should eradicate police terrorism in our communities" and called for police departments to rid themselves of assault weapons.
Many of the speakers at the Port of Oakland and Frank Ogawa Plaza were family members of Bay Area youths who have been killed by police officers.
Wanda Johnson, the mother of Oscar Grant III, a 22-year-old Hayward man who was killed by a BART police officer on the platform of the Fruitvale station in Oakland on Jan. 1, 2009, said, "Actions such as this one must continue."
Johnson said, "All lives matter and we demand to be treated equally."
She said, "What happened to Oscar is unacceptable."
Richard Perez Jr. the father of 24-year-old Richard "Pedie" Perez, who was fatally shot by a Richmond police officer last Sept. 14, said, "Police are killing our young kids and it's just not right."
Perez said police "shouldn't have special rights" and alleged that officers engage in "a code of silence" that results in good officers failing to report the misconduct of bad officers.