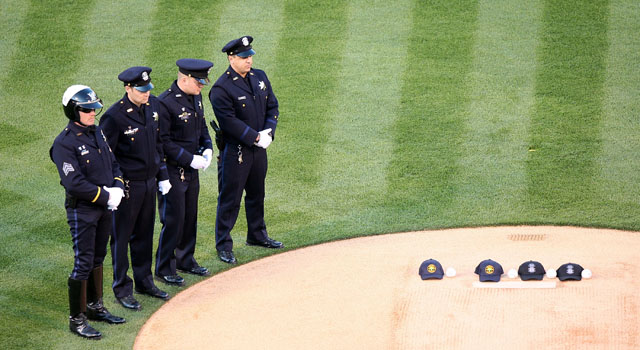 In a city unfortunately known for violence, any help is a good thing.
About two dozen more police officers are back walking their old beats on the Oakland streets, just as the city's embattled department is facing a spike in violent crime.

More than half of the officers rehired by the city will be patrolling as of this weekend, a turn welcomed by business owners in one of the nation's most crime-ridden cities.

Clay Wagers, who owns bicycle shops in Oakland's vibrant Uptown neighborhood and the historic Jack London Square, said he welcomed a stronger police presence, although he said an informal neighborhood watch program as well as a chain link fence across his front window had helped keep his stores safe.

"We understood that the cops were being cut, so it was nice to see more of a grassroots type initiative pop up to create an effective front against bad actors," said Clay Wagers, who runs another bike store in nearby Pittsburgh with his girlfriend. "I see it as a positive thing to have a few more cops actually out walking the beat so there's a little more exposure to those officers themselves."

The city laid off 80 officers—almost 10 percent of its police force—last year, leaving the department with 696 officers in a city of more than 400,000 residents.

The sticking point was over job security. The Oakland Police Officers Association said it would give concessions and contribute 9 percent of their salaries to their pensions only if the city guaranteed a three-year moratorium on layoffs, but the city said it could only offer a one-year freeze.

The department has been able to boost its ranks thanks in part to staff attrition as well as funding from the City Council authorizing 22 new hires.

Police union president Sgt. Dom Arotzarena said officers agreed to take a 9 percent pay cut this year, and in turn won a no-layoffs clause in a new contract with the city.

"We are still outmanned and outgunned on the street without question, but this helps," Arotzarena said. "The biggest worry is the economy, because the people who are the most in need and living in tougher areas are experiencing more crime because people are more desperate."

The city's homicide rate, which had been declining, began climbing again this year. This year 72 people have died in homicides—20 more than at the same time last year.

Since Gov. Jerry Brown was mayor in the early 2000s, successive political leaders have attempted to transform Oakland's strategic location, affordable rents, and vibrant cultural history into a success story.

But the struggling economy has slowed investment in the city, which like many now faces a significant budget deficit, and jobs are particularly scarce in outlying neighborhoods. The New Year's Day, 2009 videotaped shooting death of an unarmed black man on an Oakland train platform by a Bay Area Rapid Transit agency officer also has fueled mistrust of police among some community members.

Arotzarena said he thought some of the new hires would join specialized units that will likely target East Oakland, where many of the shootings have taken place, and where a 25-year-old Antioch woman was killed Saturday after getting caught in a shootout between rival groups.

The newly hired officers began taking refresher training courses last week and many are already out patrolling on the streets this weekend, said Officer Kevin McDonald. The Oakland Police Department did not confirm the exact number of hires, but Arotzarena said he thought it was nearly 30.

Chief Anthony Batts said he thanked the returning officers on Monday, telling them "I'm sincerely happy to have you come back to the organization to give your all. You're very much needed, in the worst kind of way," The Oakland Tribune reported.
Copyright AP - Associated Press