After more than three decades painstakingly engraving names for the dearly departed, Oakland artist Manuel Alvarez is packing up his hammer and heading into the sunset — leaving a legacy of more than 20,000 customized urns in his wake at Oakland's Chapel of the Chimes.
"I'm going to frame it someday," Alvarez said, handling the wooden engraving hammer he crafted for himself around 1984 when he started the job — and still uses today.
Alvarez retired this week after 34 years stationed inside a small bunker-like studio, behind a narrow pine door amid the marble walls of the Julia Morgan-designed building, working in quiet obscurity during his entire career.
On urns of all shapes and sizes, he etched the names of loved ones, often times adding names to family urns that were first inscribed more than a century back. On those, he had to mimic by hand the intricate lettering of engraving artists from long ago.
"You have a one shot deal," Alvarez said. "You have to do it pretty much right anytime."
Alvarez worked as an art professor in his native Mexico before coming to the Bay Area. A cousin taught him jewelry engraving but he never imagined it would someday open a door to his life's work.
He answered a newspaper ad for an engraver at Chapel of the Chimes and got the job. After apprenticing several months, he settled into the work, referring to the walls of ornately inscribed urns as "my school."
"The thing about copying this other person's handwriting," he said, "you look through the 30s, 40s — the craftsman ship is incredible."
Originally Alvarez worked in a postage stamp-sized room on the roof before moving into a small studio on the ground floor which is filled end to end with the cluttered implements of the trade.
Alvarez' job wasn't strictly updating urns. He also figured out how to create reliefs such as a Navy ship for a veteran, a tree, as well as engraving characters in Chinese, Korean and Russian even though he doesn't speak those languages.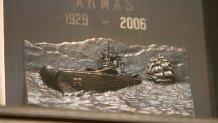 As prolific as any artist, Alvarez was content to toil behind the scenes. Since engravers don't sign their names to their work, passion for the work propelled his perfectionist's obsession.
"No one who has their loved one placed in this building has had the opportunity to sit and watch him engrave," said David Madden, Chapel of the Chimes general manager. "They have no idea what goes into it. They just see the final product."
On adding a name to an existing urn, Alvarez would examine the font of the earlier engraving, before taking up his hammer and chisel and begin tapping it out — imitating the font down to the intricate lines that filled the lettering. The decades of engraving took its toll on his hands, which eventually required surgery.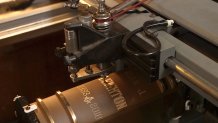 About 15 years back, the shop got a computer which made the engraving job less physical, although Alvarez said the task became programming the computer to engrave fonts that didn't exist in its libraries.
On occasion, Alvarez still takes up the hammer and chisel for special jobs. He said ultimately a computer can't match the hands of a skilled craftsman.
"It loses that personality," he lamented.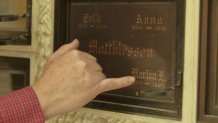 But in an occupation of farewells, Alvarez is now the one departing — retiring at the age of 69 — although he plans to continue on as an occasional consultant. He's trained other workers to continue the work although he expects they'll mainly rely on technology for the engravings.
"I just want to leave a legacy," Alvarez said, looking around his studio. "I don't want this to die."