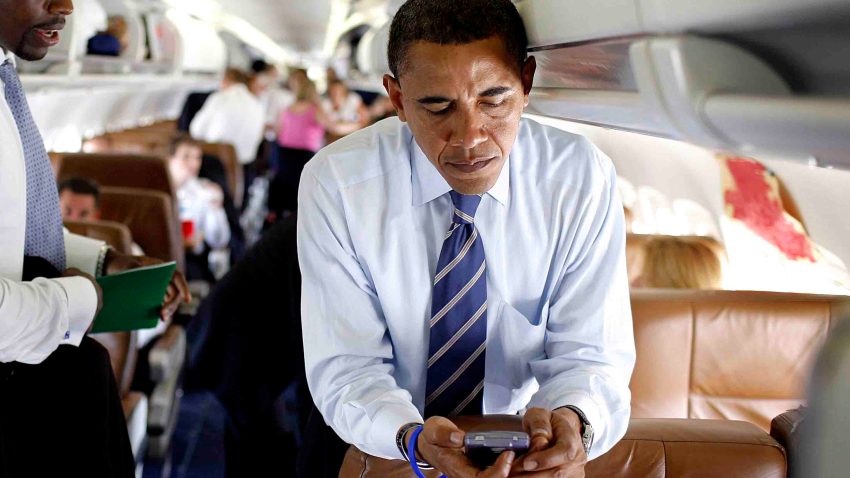 President Barack Obama may be trading in his BlackBerry for a new Android phone, likely either from Samsung or LG, according to reports.
The smartphones are being judged by the White House's "internal technology team" and the military unit in charge of the president's communications, according to the Wall Street Journal. The group is still months away from giving the president a vetted phone. The president currently uses a modified BlackBerry and there are no plans for him to switch at this time.
"We can confirm that the White House Communications Agency, consistent with the rest of the Department of Defense, is piloting and using a variety of mobile devices," a Defense Department spokesman told the Journal but declined to comment on the specific devices.
Samsung also declined to comment about the White House testing, but a spokesman said, "We have seen strong interest from the government sector and are working closely with various agencies to deploy pilot programs." An LG spokesman said he was unaware of any White House testing.
However, BlackBerry has the most to lose if this test is going on, so it had a lot to say.
"For more than a decade, BlackBerry has been securing the U.S. government's mobile communications and only BlackBerry is designed to meet the high-security needs of U.S. and allied government agencies," a BlackBerry spokeswoman told the Journal.
BlackBerry has also been doing a tour of government agencies and touting its new security, likely because the Canadian company has been losing users, especially those in the U.S. government, in droves. Android, once considered less secure than other platforms, has now strengthened security by working with third-party software companies and ensuring customized tweaks.