President Barack Obama's quick 20-hour Bay Area fundraising jaunt has come and gone, and the buzz that appears to be left in the wake of Air Force One concerns a comment he made at a Democratic National Committee event in Atherton.
During his prepared remarks he introduced some of the dignitaries in the room and when it came time to list California Attorney General Kamala Harris' credits he noted, "She happens to be by far the best-looking attorney general in the country."
The comment was greeted with laughter by the paying crowd, to which he responded, "It's true. Come on."
(See full Pool Report of Thursday's events in the Bay Area here.)
On Twitter #KamalaHarris became very popular with people commenting on the comment.
One person who didn't have a comment is the attorney general herself. Harris' office said she is "traveling and not available for comment."
The remark generated immediate controversy.
"You know, when I think of accomplished women I don't think about how they look," said Marily Mondejar, president of the Friends of the San Francisco Commission on the Status of Women, who didn't think the remark was appropriate.
But San Francisco County Supervisor London Breed called the comment is accurate: While women are judged by their looks, Harris is proof you can be attractive and tough. Breed said Harris and Obama have a solid freindship and she doesn't believe Harris would be offended by the remark.
In other off-the-cuff remarks, the president also noted Congressman Mike Honda's height (or lack thereof).
He said while introducing Honda, whom he had trouble finding in the crowd, "he's not like a real tall guy, but he's a great guy."
Here is the transcript from the White House of those two introductions:
We've got some elected officials who are doing incredible work -- great friends. First of all, somebody who works tirelessly on behalf of California every day, but also works on behalf of working people and makes sure that we've got a more inclusive America -- a good friend of mine, somebody who you guys should be very proud of, Congressman Mike Honda is here. Where is Mike? (Applause.) He is around here somewhere. There he is. Yes, I mean, he's not like a real tall guy, but he's a great guy. (Laughter.)

Second of all, you have to be careful to, first of all, say she is brilliant and she is dedicated and she is tough, and she is exactly what you'd want in anybody who is administering the law, and making sure that everybody is getting a fair shake. She also happens to be by far the best-looking attorney general in the country -- Kamala Harris is here. (Applause.) It's true. Come on. (Laughter.) And she is a great friend and has just been a great supporter for many, many years.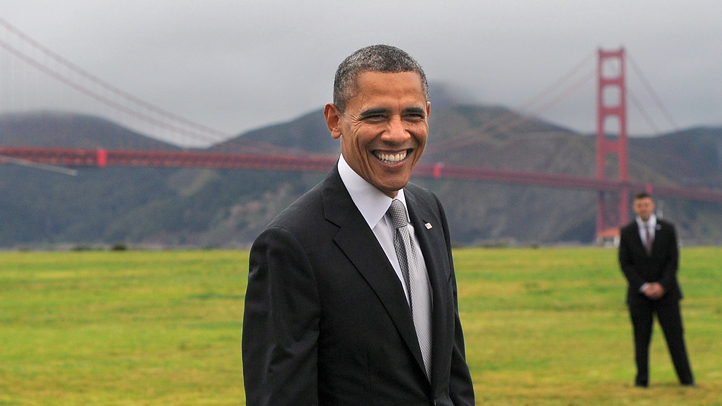 The president arrived on Wednesday evening and attended two events in San Francisco's Pacific Heights neighborhood, including a dinner at the home of Ann and Gordon Getty, to raise money for the Democratic Congressional Campaign Committee.
He stayed overnight at the InterContinental San Francisco hotel at Fifth and Howard streets, and early this morning police began shutting down streets in the South of Market neighborhood to allow his motorcade to pass through.
The president then headed to Crissy Field, where he boarded a helicopter and was taken down the Peninsula.
The Atherton fundraisers included a morning brunch hosted by Liz Simons and Mark Heising, then a luncheon at the home of Marcia and John Goldman. Those stops were to benefit the Democratic National Committee.
Outside the fundraising events, a variety of protesters gathered, including some who oppose construction of the Keystone XL pipeline, which would carry oil from Canada to Texas.
Opponents of the pipeline were in Atherton this morning for an 8:15 a.m. rally near Valparaiso Avenue and Alameda de las Pulgas.
Air Force One departed from San Francisco International Airport this afternoon.
The president was in the Bay Area for less than 24 hours and made no public appearances. His last visit to the region was in October during his re-election campaign.
Below is a special report featuring Harris where she talks about her relationship with the Obamas.

NBC Bay Area's Jean Elle contributed to this report.