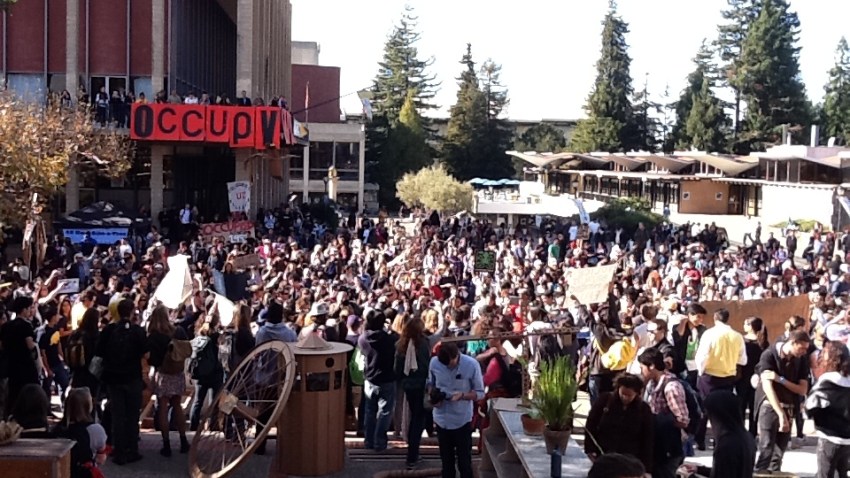 More than a dozen people charged in connection with Occupy Cal protests are set to be arraigned in Alameda County Superior Court this week and next.

University of California at Berkeley Professor Celeste Langan pleaded not guilty today to charges connected to a Nov. 9, 2011 clash between police and protestors, according to attorneys for By Any Means Necessary, a group working with protestors.

Langan is charged with one count of resisting arrest and one count of blocking the sidewalk, both misdemeanors, according to the Alameda County District Attorney's Office. She is scheduled to return to court April 5.

Twelve other people are scheduled to appear for arraignment next week on Monday, Tuesday and Wednesday on similar charges in connection with the protests, district attorney's office spokeswoman Teresa Drenick said.

At least four of those being prosecuted are also involved in a lawsuit filed in U.S. District Court in San Francisco in November alleging that police used excessive force during the protest.

Attorneys for By Any Means Necessary, the group filing the lawsuit, say that they expect to add allegations of retaliatory prosecution to the lawsuit in light of the criminal charges, which were filed after the lawsuit.

They noted that some of those being prosecuted were not among the more than three dozen people arrested during the actual protest but were among those reporting injuries and taking part in the lawsuit.

Yvette Felarca, the lead plaintiff in the lawsuit and a leader in organizing the protest, for example, was not arrested during the event but can be seen on a video being struck by police, according to attorney Ronald Cruz. She now faces four misdemeanor charges and is scheduled to be arraigned on March 20.

"The prosecutions show what we've been saying from the beginning, that this is a conscious effort to quell free speech and to target people," said attorney Ronald Cruz.

The clash at UC Berkeley occurred when university police moved to remove tents erected by Occupy Cal protestors at Sproul Plaza. The protest sparked controversy over police tactics after videos circulated showing officers using batons on protestors -- controversy that increased a week later when UC Davis police were shown pepper-spraying protestors.

The police response at UC Berkeley and in Davis was condemned by UC President Mark Yudof, as well as by the Council of UC Faculty Associations.

A report from UC Berkeley's police review board is pending, following two public forums in February and a hearing in early March, university spokeswoman Janet Gilmore said. Campus police have also brought in someone from the UC Los Angeles police department to conduct an internal review of police actions.

UC Berkeley Chancellor Robert Birgeneau on Wednesday forwarded a petition signed by 395 faculty members to Alameda County District Attorney Nancy O'Malley urging that all charges against student and faculty in connection with the protest be dropped.

Birgeneau's letter did not take a position on the appropriateness of individual charges, but noted that the university had offered amnesty from the student conduct process for those charged with misdemeanors on Nov. 9.

"We urge you to be sensitive to the context of the campus environment and to the strong feelings this has raised on campus, as reflected in the petition," the letter read.