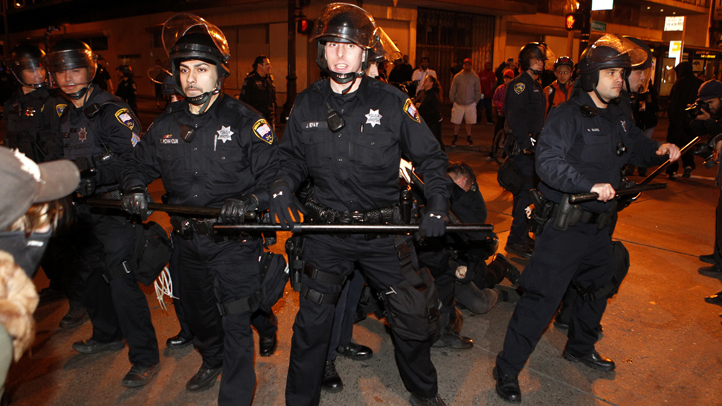 The clash between Oakland police and Occupy protesters has inspired Los Angeles demonstrators to express solidarity with their movement's brethren to the north.
Calling Saturday's scene in Oakland "a hostage and kidnap situation," Occupy Los Angeles will begin a march at McArthur Park Sunday afternoon to protest what they described as excessive force by Oakland police, according to the event's Facebook page.
Police declared an unlawful assembly Saturday when more than 1,000 Occupy Oakland protesters tried to enter a vacant convention center in the hopes of making it their new meeting place, according to NBC Bay Area.
Tweets from Oakland Police told of protesters cutting and tearing fences around the empty Oakland Museum and the Henry J. Kaiser Convention Center.
The crowd reportedly threw bottles, rocks, spray cans and burning flares at police who responded with smoke, tear gas and beanbag guns. Some 300 people were arrested, city officials told NBC Bay Area.
A number of Occupy Los Angeles supporters were at the Oakland march and among those arrested, according to the event's Facebook page.
Since their encampment was evicted from City Hall Lawn nearly two months ago, Occupy Los Angeles has continued to be active. The group holds weekly events at McArthur Park, where the rally will begin at 4 p.m. following their 12 p.m. picnic.
More than 1,000 people were invited to join the solidarity march on the event's Facebook page. About 34 responded that they will attend, with nearly 20 declaring maybe.
Follow NBCLA for the latest LA news, events and entertainment: Twitter: @NBCLA // Facebook: NBCLA