Update: Protesters are reconvening at the entrance to the port of Oakland this morning, this time with cones and fencing. NBC Bay Area has crews in the area.
Things got out of control overnight when about 100 people faced off with riot police. Damage in the downtown area was extensive. A Tully's coffee shop suffered broken windows and the downtown Rite Aid had lots of graffiti.
Officials said protesters threw rocks, explosives, bottles and flaming objects at officers. Dozens of protesters wielding shields were surrounded and arrested.
BART stations at 14th Street and Ogawa Plaza (City Center) have closed the entrances and exits that lead directly toward the protesters, encampments.
A news release from the port last night at 10:30 p.m. stressed the port's focus on safety and security of everyone involved in the general strike. It also stressed that, at the time, "maritime operations remain effectively shut down."
----------------
The East Bay city of Oakland was once again the focus of the national Occupy movement as Occupy Oakland called for Wednesday to be a "general strike" day.
A protest that began at 9 a.m. climaxed around 6 p.m. when a crowd estimated to be over 4,500 effectively shut down the Port of Oakland.
Dozens of protesters at the Port climbed on top of big-rig trucks and began dancing while others hung a banner from scaffolding that read, "This is what democracy looks like."
In the middle of it all, two protesters were hit by a car in downtown Oakland late Wednesday night. They were taken away by ambulance with non-life-threatening injuries. The driver of the car was reportedly surrounded by the protesters and attempted to accelerate out of fear or confusion.

Port Executive Director Omar Benjamin said that as a result of the protest, "maritime operations are effectively shut down."
CIty Officials 9:30 p.m. Media Briefing
Port officials later released a statement saying they hoped the work day could resume Thursday "and that Port workers will be allowed to get to their jobs without incident."

Ben Bruso, 23, a direct service provider for developmentally disabled individuals, is one of hundreds who blocked the Port's Gate One, where the demonstration had a party-like feel, complete with a brass band.

Bruso said he is there because he thinks we need to get rid of lobbying in government.

Earlier in the day more than a thousand protesters marched in and around downtown Oakland for hours. The evening march shut down traffic on many downtown streets as thousands of people made their way to the port on foot, bike and bus.
Employees at the port's main office near Jack London Square were sent home at 3:30 p.m. to ensure their safety. City workers in Oakland were also released early Wednesday.
The one thing that was missing from the crowd throughout the day was police officers. Most reporters on the scene said they did not see a single officer as they followed the marchers from spot to spot.
The lack of police proved problematic for certain drivers who inadvertently got in the path of the wandering protest. Because there were no police helping shut down intersections, drivers got trapped in their cars on at least a few occasions as they were instantly surrounded by thousands of people walking past their vehicle. The march had no clear path, making it impossible to avoid. (See photo below.)
Oakland Police Chief Howard Jordan acknowledged the lack of a police presence during a midday press conference.
"Yes, it is minimal," Jordan said. He said during a 5 p.m. briefing that police would continue to give protesters their space and only intervene if they damaged property or people.
Read what people are saying about the General Strike in Oakland
The morning march that began at 14th and Broadway traveled down Broadway to the State Building. It was loud but peaceful according to NBC Bay Area's Jodi Hernandez. Occupiers stopped at a few banks and businesses along the way, shutting some down for a time. At noon hundreds of people surrounded a Chase bank at 20th and Webster. They chanted, "Banks got bailout. We got sold out." And, "Hey Chase what do you say? How many houses did you take today?"
The reason behind the strike is the basic Occupy movement against the highest paid 1 percent.

Unions representing government workers, public school teachers, community college instructors, and U.C. Berkeley teaching assistants were among the groups who endorsed the daylong work stoppage and encouraged their members to participate. Oakland Mayor Jean Quan told city workers they can join the strike, but added they need to take a vacation or comp day to do it. City officials said about 300 workers chose to take them up on that offer.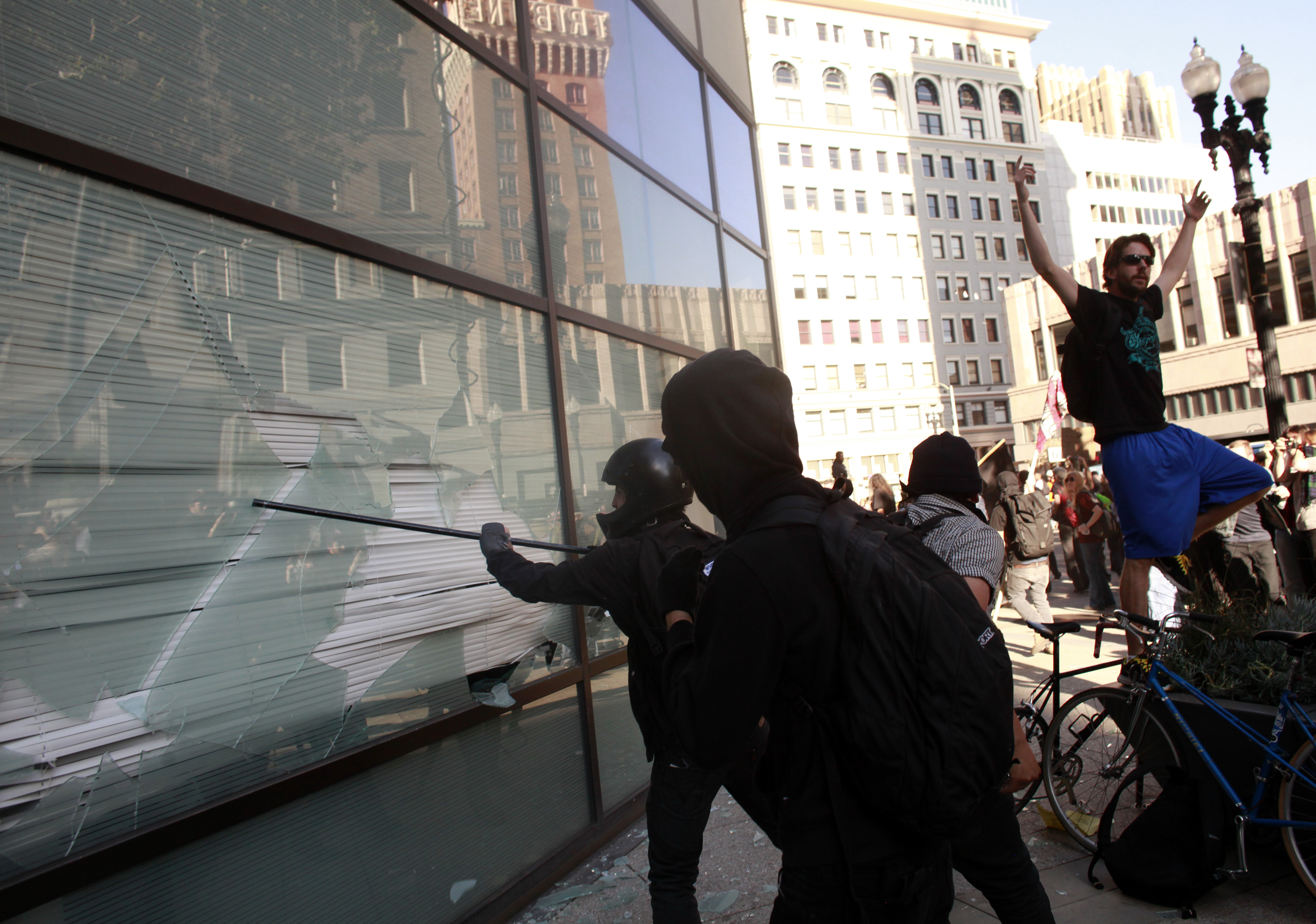 The group reconvened at Frank Ogawa Plaza and began a new march in the early afternoon down the streets of Oakland near Lake Merritt. The group had splintered in the previous hours as they visited and shut down various banks branches including Comerica, Wells Fargo, Chase and B of A.
Nearly all of those involved said they hoped to keep the day peaceful and violence-free, but there was clearly a splinter group that wanted to make trouble. A group of a few dozen people dressed in all black committed vandalism at several points in the afternoon. At one point they broke windows at a downtown Wells Fargo bank.
Throughout the day Wednesday Oakland Mayor Jean Quan and other city leaders held a series of media briefings.
Read briefing update from 12:30 p.m.
Quan also released the following statement in support of the strike:
Like many Oaklanders, I support the goals of those protesting on behalf of the 99% today. Police Chief Jordan and I are dedicated to respecting the right of every demonstrator to peacefully assemble, but it is our duty to prioritize public safety.

Many Oaklanders will not be participating in today's events, even if they may support the overall goals of those demonstrating. We must make sure that those who have to go to work and keep their businesses open are able to do so.

We have spent the week collaborating with the Port, county, school district officials as well as clergy, business, community and activity groups to ensure that the day goes smoothly.
The protests were anything but peaceful last Tuesday night. That's when officers in riot gear shot tear gas on protesters several times during a wandering protest through downtown.

Demonstrators in Los Angeles, New York, Chicago and Philadelphia held solidarity actions in support of Oakland Wednesday.