Marine veteran Scott Olsen is improving Thursday morning after his skull was fractured by a police projectile during an Occupy Oakland protest Tuesday.
Olsen, a 24-year old Daly City man who served two tours in Iraq, was sedated and in critical condition at Highland Hospital Wednesday with swelling to the brain. He is still sedated, but the hospital said he's doing better. Olsen's family flew out from the midwest to be with their son, who's injury was captured on video (below).
The YouTube video shows people yelling, "Medic! Medic!" in hopes that someone would come to help Olsen, who was lying in the street bleeding from the head. See more still photos of his injury here.
People in the video also ask Olsen "What's your name?" multiple times, but he did not respond. Protesters eventually picked him up and took him out of the area.
Olsen was discharged from the U.S. Marine Corps in 2010 and works in Daly City as a systems administrator, according to a news release issued by Iraq Veterans Against the War.
U.S. Rep. Barbara Lee, D-Calif., who said she supports the movement, issued a statement Thursday commenting on the violent tactics police used against the peaceful protest Tuesday night.

"I shared my outrage and grave concern about the police brutality in Oakland directly with the mayor," Lee said. "My thoughts go out to the injured and especially Scott Olsen."
After a much less chaotic protest Wednesday night, the "Occupy Oakland" campsite was back up at Frank Ogawa Plaza. By noontime Thursday several tents were placed on the plaza grass. Police and city officials appeared to be allowing them to stay. On Tuesday morning, police raided that camp and forced protesters out.
The fencing, once used to keep people from the grassy area of the plaza, was taken down by protesters. Police did not stop that effort either. By morning people had turned the fencing into a tower and called it art. City workers could be seen standing around the fence trying to figure out how to take it down.
One of the things that is new to the Occupy Oakland camp is a makeshift shrine to the man who was seriously hurt during Tuesday night's melee.
Olsen had been taking part in the OccupySF movement, but came to Oakland on Tuesday to take part in a protest of the raid of the Oakland camp earlier in the day.
Abele Carpenter, 29, a friend of Olsen's who met him through his anti-war activism, said she visited Olsen in the hospital early Wednesday morning and has been in touch with his family who are supposed to fly to Oakland Thursday.
Carpenter said that a few weeks ago, she and Olsen did outreach together for active duty sailors during Fleet Week, and that Olsen was involved in trying to stop the redeployment of traumatized service members.
"He has a real breadth to his politics and social justice commitment," Carpenter said. She said Olsen had been camping at Occupy SF consistently for at least a week.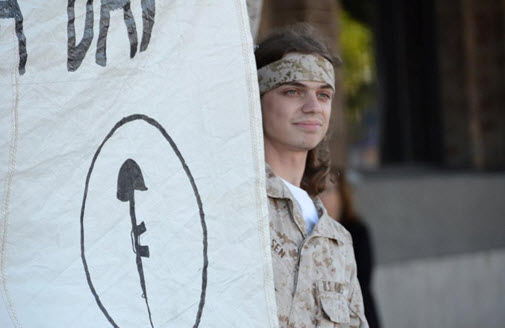 Another friend at the vigil said a fund is being set up to assist with Olsen's medical expenses and his family's travel expenses from Wisconsin at www.ivaw.org.
Olsen is an active member of Iraq Veterans Against the War. The group said
Thursday's vigil is scheduled to be held during the "Occupy Oakland" general assembly at 7 p.m. at 14th Street and Broadway. That group and "Occupy Oakland" organizers have called for similar movements across the country and around the world to hold solidarity vigils for Olsen, who has been active in the "Occupy SF" and "Occupy Oakland" protests during the past several weeks.
Here's the video that shows Olsen being carried off after he was hit by some kind of projectile.