UPDATE: Oakland police have ordered a large crowd of demonstrators to clear the area near 14th and Broadway tonight.
More than a thousand activists converged in Frank Ogawa Plaza shortly before 7 p.m. and jubilant demonstrators were waving flags, playing drums, making speeches and dancing in the streets earlier this evening.
Police declared the gathering an unlawful assembly and issued the order to disperse at around 8:40 p.m. as officers in riot gear moved in on the crowds.
As of 7 p.m. at least 10 protesters had been arrested during the day of demonstrations, according to police Sgt. Jeff Thomason.
Police Chief Howard Jordan said earlier today that the demonstrators were arrested for offenses ranging from vandalism to resisting arrest. Several people were arrested in a confrontation between police and protesters near 14th Street and Broadway shortly after noon today.
Howard said the confrontation began when protesters started throwing objects at officers who were trying to make arrests and disperse the crowd. Officers then "deployed a small amount of gas" to disperse the crowd, Jordan said.
He did not specify whether it was tear gas. He said Oakland police called in mutual aid at 9 a.m. because they observed that there were "multiple, simultaneous events" that were stretching the department's resources thin.
The agencies providing the aid include the Hayward, Fremont, Union City and Newark police departments, the California Highway Patrol and the Alameda County Sheriff's Office. BART officials said this evening that the 14th Street entrance to the Oakland City Center station was closed because of police activity but the other entrances remain open.
Most of the 3,500 people who were in Ogawa Park have peacefully left, leaving about 300-500 remaining.
------------------
In honor of May Day, many Occupy-inspired protesters took to the streets.
In Oakland, the protest turned violent for a time in and around 14th and Broadway streets about noon on Tuesday. NBC Bay Area's news helicopter was over the intersection when something appeared to spark a conflict between protesters and police at 12:20 p.m.
Several people were taken away in handcuffs (or zip-ties). There were also puffs of smoke in the area, which appeared to be some kind of smoke bomb or tear gas. Witnesses said police threw tear gas cans in response to the chaos.
OPD Tweeted the following: "Crowd at 14th/Bwy throwing objects at officers attempting to make arrest.Disperse order issued.OPD deployed small amt gas to disperse crowd."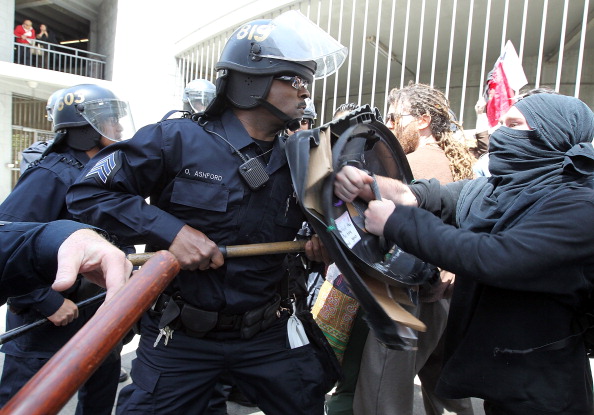 There was also at least one case of a paint bomb being thrown at police. Several police officers were seen with white and yellow paint on their uniforms. Protesters also reportedly broke out a window of a police van during the disturbance.
Police said "the activities have largely been peaceful," but said they made nine arrests. They said "a large crowd assembled at 14th and Broadway began throwing objects at officers who were attempting to make an arrest. The crowd surrounded officers, who issued a dispersal order, and when the crowd did not disperse, officers deployed a small amount of gas to disperse crowd." They did not specify if it was tear gas.
Below is raw ground video of the incident:
Vandalism/Damage report from OPD:
Vandalism at Bank of America at Kaiser Center; bank advised they are boarding up and closing for the day.
Vandalism at Bank of the West (2127 Broadway).
OPD van had windows broken.
News vehicle had tires punctured.
Police estimated that the crowd was about 400 people. There were dozens of police in riot gear lined up along Broadway as the protesters made a move onto the streets of downtown Oakland at 12:45 p.m.
Things appeared to calm down by 1 p.m. after police announced on loud speakers that they were declaring the protest to be an unlawful gathering.
Oakland Traffic Impacts:
Temporary, intermittent street closures to accommodate demonstrators. Intersection at 14th and Broadway is currently blocked by demonstrators.
Blockages and traffic disruptions are anticipated throughout the afternoon and evening in downtown Oakland.
Traffic and transit conditions could rapidly change. The City advises downtown employers, employees, and residents to visit www.511.org or call 511 for up-to-date transit information.
In the 3 p.m. hour, the protest was clearly in the thousands as people marched from the Fruitvale BART Station back to Frank Ogawa Plaza near 14th and Broadway.
Police estimated the number of people walking the streets somewhere between 2,000 and 3,000. It stretched for several city blocks blocking traffic along the way.
Organizers said the plan was to gather all of those people back at Frank Ogawa between 5 p.m. and 6 p.m.
Earlier on Tuesday, a strike by Golden Gate workers at the ferry station in Larkspur halted service until the early afternoon. Ferry workers have been negotiating a new contract with the bridge district for a year, with little success.
In Oakland, starting about 8:30 a.m., a roving band of about 200 protesters, many dressed in black, marched downtown, banging on windows, heading toward the Bank of America and Wells Fargo -- establishments many of the 99 percent feel take advantage of regular people.
In response, the banks in Oakland looked like they were closing, and perhaps locking, their doors, opening them after the protesters marched by.
Riot police followed behind, and the mood was spirited but not violent.
In San Francisco, the protests began on Monday night, where at least one person was arrested after cars, businesses and a police substation in the Mission was vandalized.
Some protesters said they were dismayed that the vandalism occurred. They say a splinter group broke off from the main group and smashed windows along Valencia Street.
"It was unbelievable, I sort of went into shock," said Eric Koehler, owner of the Art Zone gallery, where a giant window was broken.
"For my mind it's why us?" said Koehler. "We're a local business, local art gallery, we show local artists' work -- why are we a target for that kind of violence?"
Other shops that were vandalized include the nearby Therapy, Pica Pica restaurant and Chez Tartine.
On Tuesday afternoon, protesters took to the center of San Francisco and hoisted an effigy of "corporate greed" at Market and 15th streets. The three-story form of a man wearing a 1 percent button looked like a huge Gulliver being held down by Lilliputians.
Sutter Health nurses also were on a one-day strike.
May 1 has traditionally been a day of union activism, and with the addition of the Occupy movement, the day is expected to attract thousands all over the country.
Below are images and tweets posted from Oakland today. [View the story "Occupy Mayday in Oakland" on Storify] -----