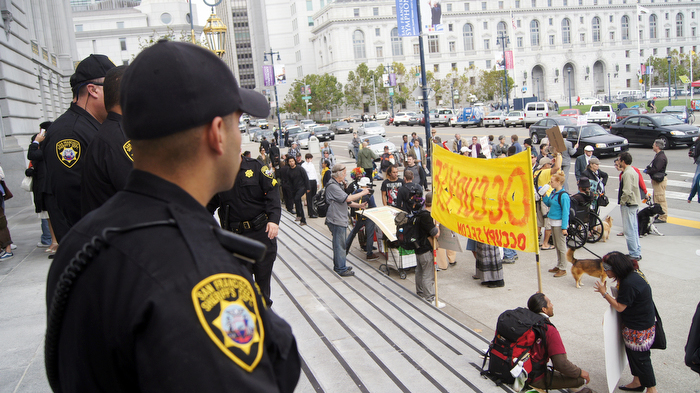 More overnight violence at an Occupy San Francisco encampment leaves one man recovering from a stab wound.
It happened near the Federal Reserve Bank on Market Street in the Financial District just after 11:30 Monday night. Police found a man suffering from a stab wound to his neck. Investigators say he was arguing with the suspect over an undisclosed issue before the attack. The 27-year old victim was taken to San Francisco General Hospital, and is being treated for non-life threatening injuries. The suspect fled the scene before police arrived.
This latest round of violence comes a day after another stabbing at the same location on Sunday night. A 28-year old man is still in critical condition after being attacked. Police are also searching for the suspect.
Protesters have been demonstrating near the Federal Reserve Building for about a month. But police have been in a constant battle since last Fall over protesters who are trying to re-occupy the area after it is cleared away. The Occupy movement across the country has been in action for the past 6 months since the first protests were held at Wall Street.