While demonstrators flocked to San Francisco and Berkeley over the weekend to counter planned right-wing rallies, thousands of others converged at San Francisco and in Walnut Creek to spread messages of love and unity.
Draped in red and pink, toes in the sand at Ocean Beach, an estimated 1,000 people on Saturday crammed together to form a giant heart with an American flag unfurled in the middle, according to organizers. Hours earlier, a similar-sized crowd gathered in the East Bay to spell out the words "END HATE!"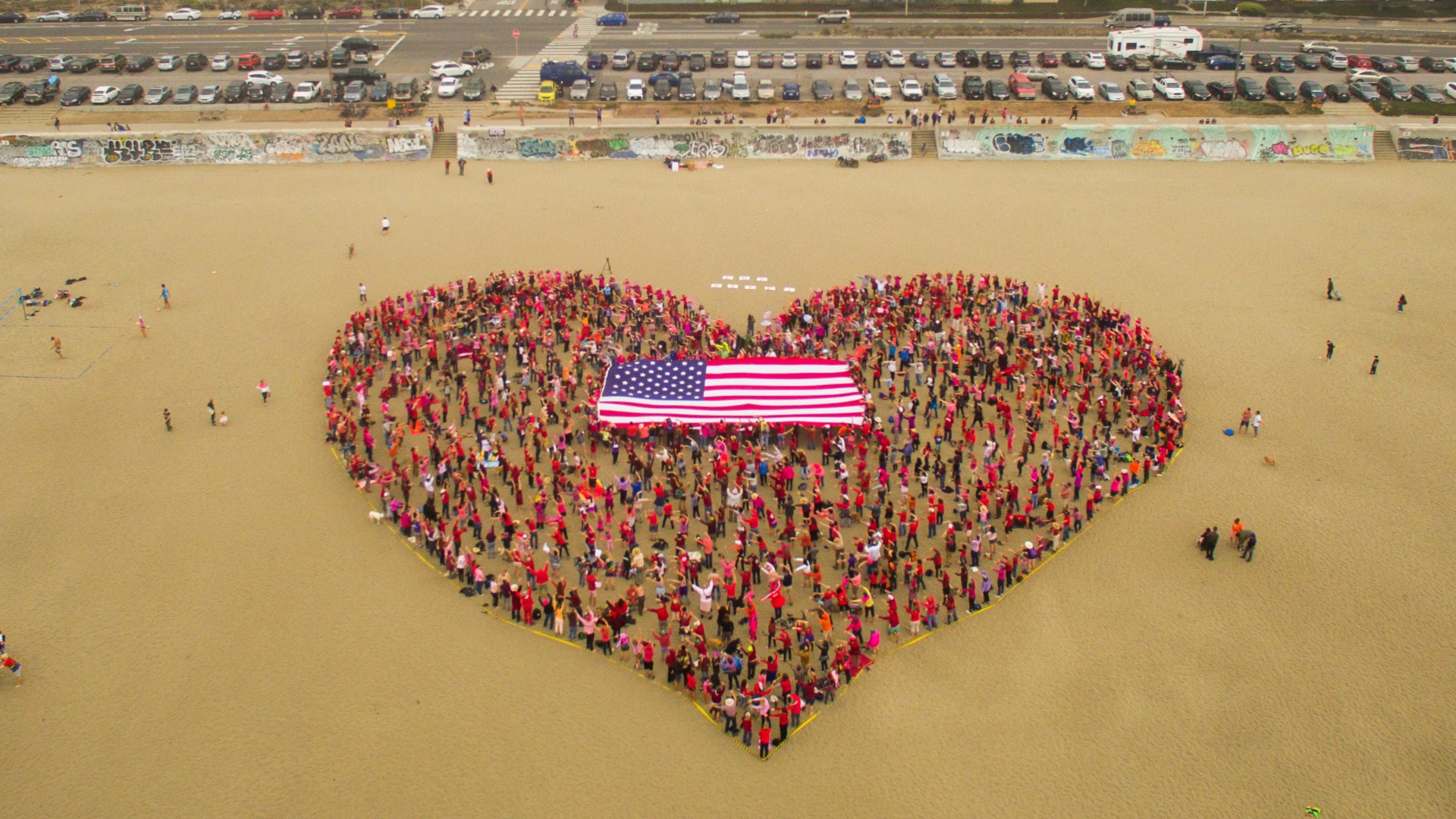 "Nobody said that the revolution couldn't be fun," longtime human banner organizer Brad Newsham said following the two feats. "I've tried to create events that I would like to come to with no speeches, just people being people and dropping everything else. I hope to bring people together."
Newsham teamed up with Gabriella Musacchia from Together We Will and Renee McKenna from the San Francisco Women's March to orchestrate the creation of the banner at Ocean Beach. The simple goal was to assemble people from all walks of life in a family-friendly and peaceful manner.
"It's fun to have this other element of the human banner," Newsham said. "Each little human pixel coming together to create a beautiful work of art, that's what I'm trying to accomplish."
Attendees also joined in unison to belt out tunes such as "God Bless America" and "This Land is Your Land" as well as raise money for Life After Hate, a nonprofit organization that "transitions people away from extremist lifestyles."
"It was very moving," Musacchia said. "It was very touching to see people come together against hate."
Before the heart came to life in San Francisco, just about 1,000 people spelled out the anti-hate message in Walnut Creek. Members of the city council and Rep. Mark DeSaulnier were among the many human pixels featured in the photo captured from above, according to Newsham.
For the past 10 years, Newsham has spearheaded 17 human banner-related events in the Bay Area and even in Washington D.C. One of the more recent exhibitions came in February when he and others spelled "RESIST!!" on Ocean Beach.