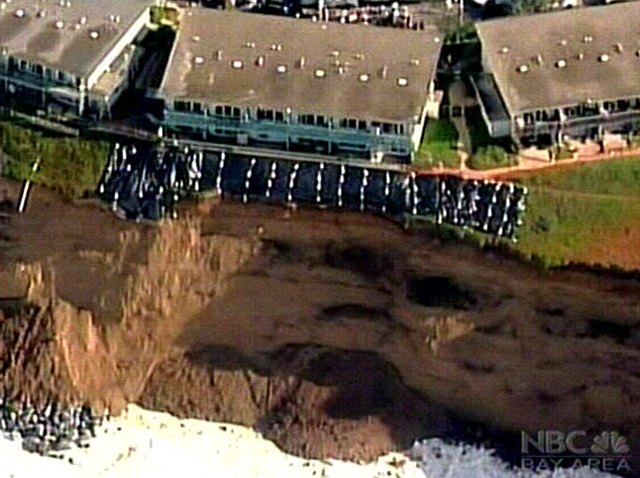 Residents ordered to get up and go from their apartments in Pacifica are waiting to find out if their futures are on shaky ground or if there's a way to buffer the collapsing bluff below their homes.

The dangerous situation became urgent within the past few days, as the ocean tide washed away the cliff. Now the building at 330 Esplanade in Pacifica is just a few feet away from becoming history.

The city ordered everyone out Thursday after the bluff outside their decks shrank. One woman said there was about 25 feet between her patio and the cliff just the other day, now it's down to three or four feet.

The Sweet family won't even get a day to enjoy their ocean view. The newest residents of the building, they moved in just this week with their infant son.

"We moved into apartment 34 last night signed a new lease." Brian Sweet said. "We thought work was done by the owners. Sure enough, got a call that the bluff had fallen down."

The "work" Sweet is talking about is a way of fighting nature with nature, sort of. Boulders at the base of the cliff could have helped prevent or slow down the erosion but a dispute between the city and property owners delayed the installation of the rocks. Waves crash into the rocks protecting the bluff from erosion.

Neighboring buildings installed boulders at the base of the cliff below their structures over the summer and they have been saved.

A crane is expected to arrive in the morning to bring big rocks onto the beach below 330 Esplanade but it may come too late for the ccliffside dwellers. City leaders say no one can move back in until a plan for a permanent fix is in place.
Even if the rocks are put in place, would you move back into a building that came so close to falling into the Pacific?