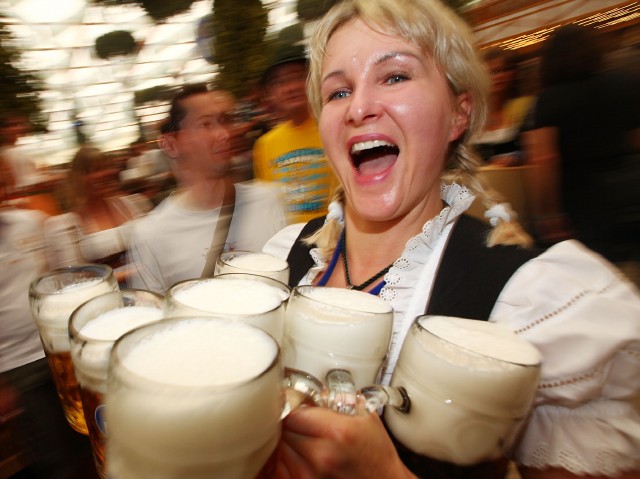 This coming weekend will be the third and final in a series of local Oktoberfest celebrations and this biggest of the fests will be held Friday, Saturday, and Sunday at Pier 48.

Oktoberfest by the Bay has been rated as one of the top 10 Oktoberfest in the US; it boasts two alternating bands: the 20 piece Chico Bavarian Band and The Internationalists; The Oakland Nature Friends Schuhplattler dance group performs traditional Bavarian and Austrian folk dance; there will typical German dainties like sausages and pork cutlets; and festival hosts will be pouring enough Spaten to convince even the most skeptical that the Chicken Dance is genius.
The charity event is hosted by the United German-American Societies of San Francisco and Vicinity (UGAS-SF). While the group hosts other events through the year, this is far and away their biggest celebration. Friday and Saturday night sessions are 21 and over and several veteran fest goers prefer to go Friday. If you want a guaranteed place to sit, and easy access to food, a bar and bathrooms, consider buying VIP tickets. Saturday night's and Sunday's VIP packages are sold out, but there are still Friday VIP tickets available.

If you want to take the kids, think seriously about attending on Sunday when tickets are half price and there's more emphasis on German history and culture. The German-American community clubs and organizations have a parade with their flags and celebrate not only the history of the Oktoberfest but also the pioneers who founded America's first permanent German settlement at Germantown, PA in 1683. One more reason family day is Sunday: the people who attended Saturday night's session will be too hung-over for a final attempt.

Order tickets online and be sure to read the FAQ section for specifics on the fest.
Friday 9/30 5pm-12am
Saturday 10/1 Day Session 11am-5pm
Saturday, 10/1 Evening session 6pm-12amSunday, 10/1 11am-6pm
General admission $25; VIP $65
Sunday half price tickets