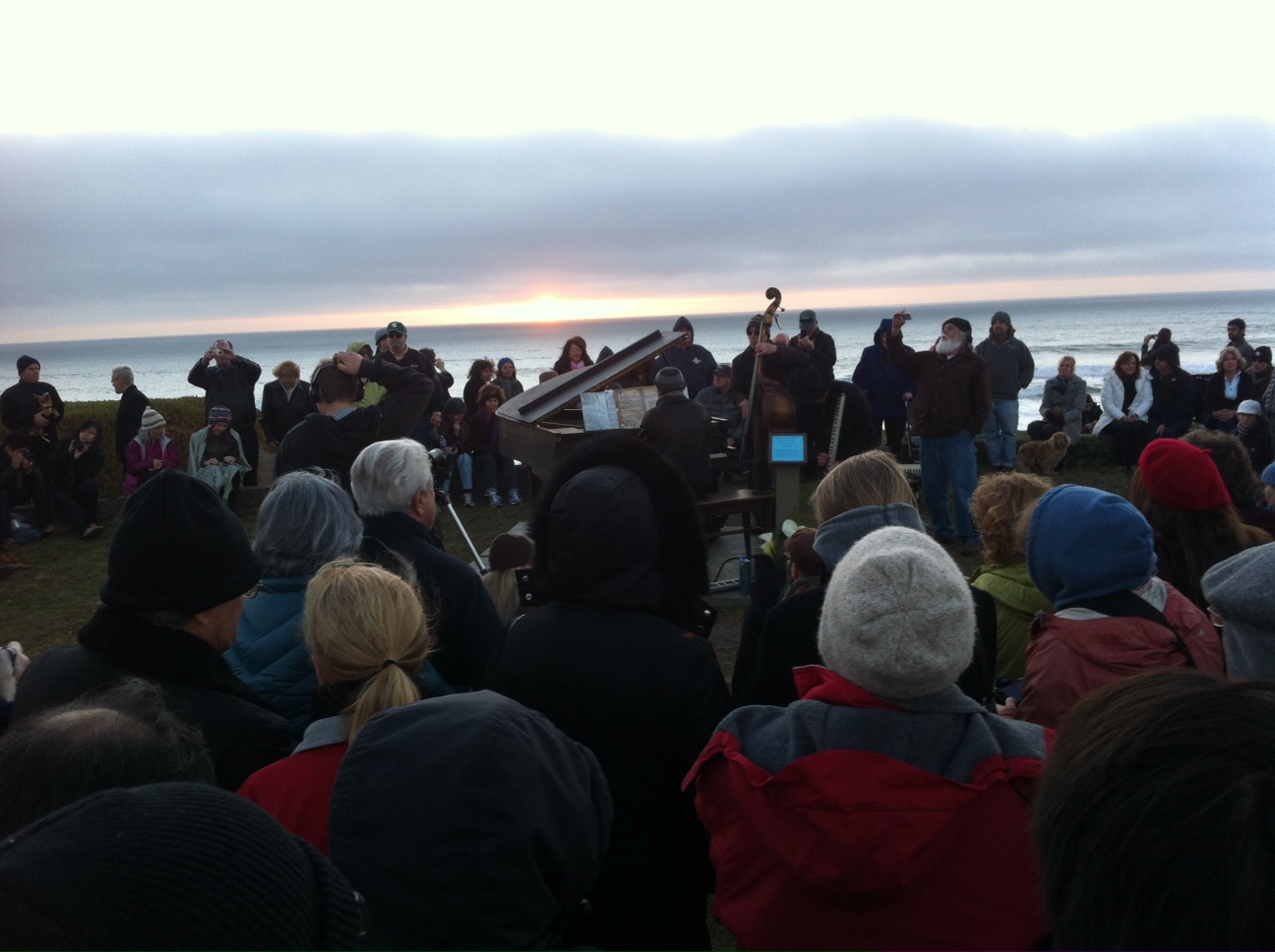 A glorious send-off for a piano whose glory days are behind it: Franz Schubert at sunset on Wednesday on a bluff in Half Moon Bay.

"I have many pianos and I decided I wanted to play by the water, and here we are," said artist Mauro Ffortissimo, who gathered a few friends to drag the piano to the bluff, something he's been doing since the beginning of February. It's a practice that is about to come to an abrupt halt, but is part of a planned project called "Sunset Piano."

"I start with Arabesque and the idea was to keep playing it for a month so people would notice how the elements are changing the tuning of the piano," Ffortissimo said, adding that it would be a show of impermanence.

In the two weeks since Ffortissimo hauled the piano on the beach, people have stopped by, day and night to touch it, take pictures and to play the piano in this spectacular venue. And, with every sunset, the crowds have grown, with dancers, upright bassists and poets joining in.

"It was majestic, I've never had any experience like this. I wish it was staying here for a long time so I could keep playing," said Suzanne Webber of El Granada, who studied piano for 24 years.

But the days of this aging piano are numbered. The city will no longer allow it to stay, saying it doesn't have the proper permits. Ffortissimo said the piano will get one more sunset at the harbor, one more sunset on a boat, then at sunset on Sunday, he'll burn it - a cremation of sorts.

"I am going to take it to my studio, I'm going to play the piece one last time while the piano burns. Wish me luck," he said.
As much as the people of Half Moon Bay and beyond have enjoyed the sunset serenades, Ffortissimo says they were never meant to go on forever. And yet, for the people who experienced them, the music will live on.

"To be able to play next to the ocean was incredibly cool," Webber said.

Fortissimo says that after one of the first few sunsets, a woman approached him, crying. She told him that the piano belonged to her family for decades, but that they could no longer keep it, nor pay to repair it. Watching the crowds enjoy its music made saying goodbye a little easier.

Ffortissimo says he may use some of the piano's charred bits in a sculpture. Perhaps another work of art that will make people feel once more. He said, "It's kind of humbling in a way, it's just making so many people happy and excited. It's amazing."