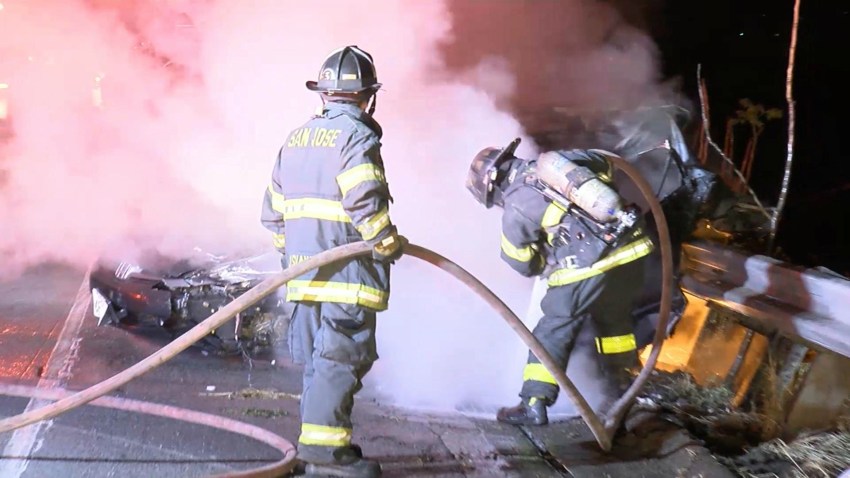 One person driving along southbound Interstate 280 in San Jose early Sunday was killed after a chain reaction collision triggered by an alleged drunk driver, according to the California Highway Patrol.
The driver behind the wheel of a Lexus sedan was reportedly speeding when he slammed into another sedan, causing that car to flip over and crash into the center divider near McLaughlin Avenue around 2:30 a.m., according to CHP spokesperson Sgt. Daniel Hill. No one was injured in that collision.
The Lexus driver then careened into a Honda Accord, which spun out, hit a guard rail and immediately burst into flames, according to Hill. The driver trapped inside the Honda tried to escape from the burning vehicle and good Samaritans also chipped in to help, but their efforts were unsuccessful. The victim was pronounced dead at the scene.
"All loss of life is unfortunate," Hill said. "All loss of life when it comes to vehicle collisions is rather tragic because it's also avoidable."
A preliminary investigation indicated that the driver of the Lexus sedan was under the influence of alcohol at the time of the crash, Hill said.
Speaking about the fatal crash, Hill made it a point to remind the public to give up their cars keys when alcohol is in their system.
"There is so many ways to get home without driving that there is no excuse for getting behind the wheel while under the influence," he said.
The crash temporarily closed all southbound lanes between 7th Street and McLaughlin Avenue, according to Hill.
A passenger in the Lexus sedan was also transported to a local hospital, Hill said.