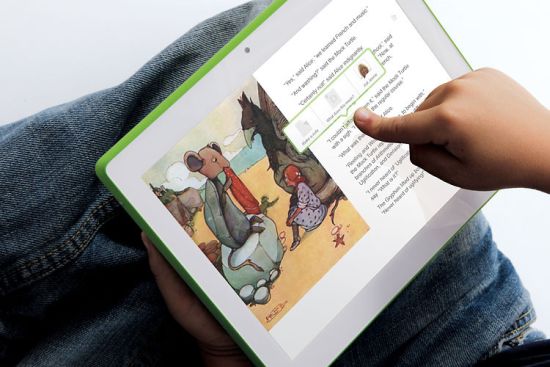 Remember those low cost One Laptop Per Child computers designed for kids in developing countries? Well it seems that even kids in third world countries are smitten with tablets like the iPad, so the OLPC group has developed a new low cost tablet version just for them.
The new $100 XO-3.0 has been ruggedized for the rough handling a kid is likely to give it, and includes a wraparound cover that seems inspired by the iPad2's Smart Cover. In a stroke of genius, the removable cover has a built in solar panel and battery so you can leave it outside to charge while continuing to use the tablet indoors.
While it isn't exactly going to get you to dump your iPad, the XO-3.0 is pretty well equipped considering its low cost. The 8 inch screen is driven by a Marvell Armarda processor with 512-MB or RAM and 4-GB of storage. Most importantly, the tablet has extremely low power consumption, and can get its juice from a number of different sources. Even if you use a hand crank generator, you'll get about 10 minutes of computing for every minute of cranking. Operating system will be either Android of OLPC's own Sugar OS.
It's not clear exactly when the XO-3.0 will ship, but with over 2 1/2 million of the original laptops now out there helping kids, you can be pretty sure the tablet will be a big seller.
Fast Company, via Core77
For the latest tech stories, follow us on Twitter at @dvice
Copyright DVICE - DVICE