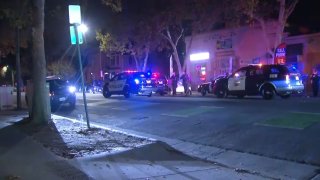 San Jose police Monday morning responded to a fatal stabbing in the downtown area, just down the street from City Hall, according to the police department.
The stabbing occurred at about 5:05 a.m. at Sixth and Santa Clara streets, about a block from City Hall, police said. When officers arrived, they found a man with a stab wound.
The victim was taken to a local hospital, where he later died, police said. Police had no information about the person responsible for the stabbing.
It was San Jose's 29th homicide of the year.
Anyone with information should contact Detective Sgt. Miri #3860 or Detective Cuenca #3915 of the San Jose Police Department's Homicide unit at 408-277-5283. Those wishing to remain anonymous may call the Crime Stoppers hotline at 408-947-7867.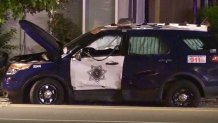 Earlier in the morning in a separate incident, a San Jose police officer was injured after he was involved in a crash in the area of Taylor and North Third streets, police said.
The crash occurred just before 1 a.m. when a driver ran a stop sign while crossing the intersection and collided with the San Jose patrol vehicle. Both the officer and the other driver were taken to the hospital with non-life-threatening injuries, and the officer later was released, police said.