A Peninsula couple is facing felony charges for fatally burning their 2-year-old dog with scalding water.
The Peninsula Humane Society & SPCA led the investigation with the help of an expert forensic veterinarian and ruled that the death of Sprocket, a small, white-haired pooch, was intentional and non-accidental, according to a news release issued Monday by the agency.
The forensic investigator determined that the burn marks on Sprocket resulted from the dog being lowered into a container of scorching hot liquid, according to the release. The incident happpened on April 19.
The male pup was not transferred to a veterinary clinic for over a week, despite suffering from third-degree burns covering 40 percent of his flesh, the release said. Veterinarians attempted to save Sprocket but were unsuccessful.
The circumstances surrounding Sprocket's death are hard to stomach for Ken White, the president of Peninsula Humane Society & SPCA.
"The details of this case are horrific," he said in a statement. "After the scalding, the poor dog endured days of horrendous suffering. We hope our investigation will provide the evidence needed to bring Sprocket justice, and ensure that his owners are unable to hurt any other animals."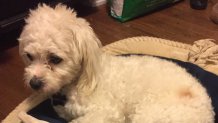 The defendants in the case, Shelby Lujan and Paul Souter, claim that Sprocket was harmed when a cup of boiling water fell into his crate, the release said.
Souter, of New Mexico, is charged with felony counts of maliciously and intentionally wounding an animal and failing to provide proper care to an animal, according to Deputy District Attorney Al Serrato.
"Our primary focus is to hold people accountable for causing that much pain to an animal," Serrato said.
Lujan, of San Bruno, is charged with the second felony and is out on bail. Souter was arrested Aug. 21 in Bend, Oregon, and will soon be extradited, Serrato said.
Bay City News contributed to this report.