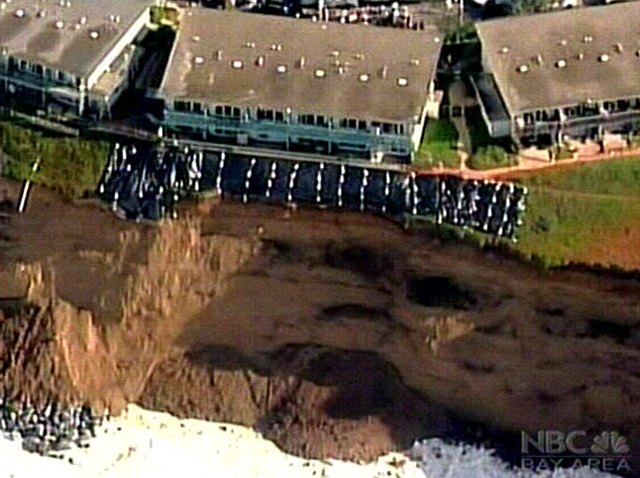 Emergency repairs are nearly complete at the base of an eroding cliff in Pacifica, but the upper part of the bluff still needs some work, a contractor hired to do the work said Wednesday.

Crews this week have continued to lower boulders to the bottom of the cliff along Esplanade Avenue to try to shore it up and stop the erosion caused by crashing waves.

The situation is no longer in an emergency state, said Tony Fortunato, superintendent at Engineered Soil Repairs Inc., the company hired to put the boulders in place.

"For all intensive purposes, the bulk of it is done at the bottom of the bluff," Fortunato said this morning. "We still have to do some tuning up, (but) we're in pretty good shape."

The upper part of the cliff is still in danger of collapsing, however; if it does, it could take a 12-unit apartment building at 330 Esplanade Ave. with it.

"The upper bluff is falling as well," Fortunato said. "We have to fix that somehow."

He said the crews have been considering inserting soil nails, or large metal rods, into the cliff to stabilize it, but said he doesn't know how long that process would take.

Residents of the building were forced to evacuate on Dec. 17 after large chunks of the cliff fell into the crashing waves below. The repairs began that same day.

Fortunato said crews have worked every day since then, including Christmas Eve and Christmas.

He said his company has also been hired to place large rocks at the base of the cliff below 360 Esplanade Ave., though the erosion there is not as extreme.