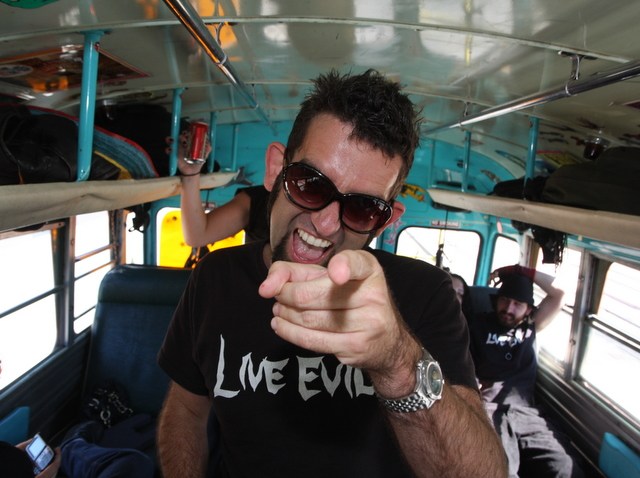 Have you ever wanted to party like a rock star? Think you're too old to live your dream or the 9 to 5 is holding you back?

Then today is your day because Live Evil is looking to make your dream come true.

San Francisco self-proclaimed greatest rock band will host the third annual Walk Out to Rock Out, where they will drive around the City in a bus encouraging people to ditch work and party like a rock star.

The idea is the brainchild of Laurent Martini, who dreamed up the band when he was a short, fat 13-year-old with braces going to an elite private French school in the City.

"The idea for Walk Out came to me three years ago when I thought: 'what do rock bands do? Oh yeah, they tour the country on buses and party," Martini said. "Well, touring the country's expensive, but not touring the City. And why not invite the entire City to join us for a party? That'd be awesome!"

The tour will start at 9 a.m. Thursday at Zeitgeist in the City. From there the band will jump on the party bus around 10 a.m. and begin collecting people willing to ditch work to party as they drive around San Francisco.

Joining the party is free and those strong enough to hold their liquor and their groupies until 8 p.m. will be rewarded with a free show by the band at the Hotel Utah.

"To me, 80s hard rock is all about having a great time, that's what I want Live Evil to represent," Martini said.

And the band's songs reflect just that. Between the ages of 13 and 17, Martini wrote over 120 songs and that is all the band performs now, years later.

Martini says you can tell some of the songs were written by a teenager but that's just fine with him. It lends comedy to an event that is suppose to be all about fun.

"Walk Out to Rock represents everything that Live Evil and 80s hard rock stood for: wild fun," he said. "Remember Poison's 'Nothin' but a Good Time?' That's what walk out is.'

But the party is not exclusive to people who listen to rock. In previous years everyone from lawyers to arguing couples have joined the festivities.

Last year about 150 people come on and off the bus, which is just fine with the band.

People are welcome to join up and party wherever they want and for however long the want.

The entire event will be broadcast live on Justin.TV and there will be regular updates on the band's Facebook, YouTube and MySpace accounts.

Proceeds from several sponsors will go to benefit the Leukemia Lymphoma Society.

For more information, visit the band's website.