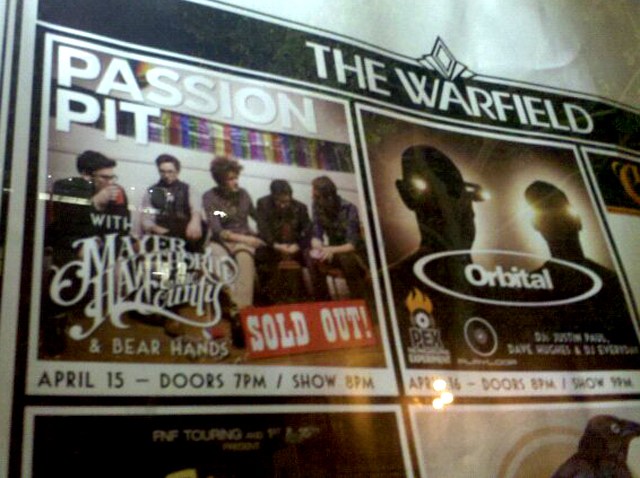 Like thousands of fans, I'm still reeling from the sold out Passion Pit show at the Warfield. I had my doubts that the band popular on the indie outdoor festival circuit would pull off a show indoors, but they proved me wrong.

The Treasure Island music festival first put the Boston natives on my radar. I'm not typically a big fan of electro pop, but they're just undiscovered enough to catch my eye and just catchy enough to keep me interested.

I recommend their songs "Little Secret" and "the Reeling" if you want to check them out. I'll admit the lead singer's falsetto voice is at times too much to handle, but their high energy keeps you pumped.

Opener Mayer Hawthorne also blew me away. I mean, wow! He's got this retro vibe- nerdy Buddy Holly glasses, classic skinny tie and suit.

You're not sure what you're getting into by the look of him. What you get is a nostalgic and soulful show. I was instantly drawn into his cool, smooth personality and couldn't help but sway to his rich sound.

I'm not sure that his recorded songs come off as well as the live show. He even mentioned an Oakland taco stop he loves on 22nd and International. Classy move. I came for Passion Pit, but was sad to see Mayer Hawthorne leave the stage.

DOIN' IT WELL:

As embarrassed as I am to admit this: this was my first Warfield show (the overnights I mentioned severely limit my free nights), but it definitely won't be my last!

The venue is beautiful inside. I had my concerns about parking, but a friend recommended I park at the Metreon, but I actually nabbed a free street spot just across the lot. Also don't stop at the first bar, get your wristband and head on in. We waited almost 20 minutes in a crowd and there was no line inside.

Here's a list to the Warfield's next shows.
Marika Krause produces NBC Bay Area Mornings. She works overnights, so she crams more fun and Bay Area adventures into the weekend than most people do in a week. You can catch her weekly blog right here on nbcbayarea.com.