Faced with the frightening news that their 17-year-old son's cancer has returned for a third time, a Pebble Beach family is making an eye-catching offer in order to try and save his life: a $10 million "bounty" for anyone who can make a rare cancer medicine available to them and others who may need it.
"We are 100 percent serious," said Rider McDowell. As evidence of that point, McDowell and his wife, Victoria, said they have already placed the money in an escrow account.
The McDowell's son, Errol, had twice successfully beaten back diagnoses of Medulloblastoma. At the beginning of this year, his parents had felt they had left the nightmare behind them.
"I think we thought we were out of the woods," Victoria McDowell said. "We were just beginning to let go of the fear." Grateful for their good fortune, the McDowells even embarked on an ambitious fundraising effort, called Cancer-a-GoGo, that aimed to raise $350 million for cancer research.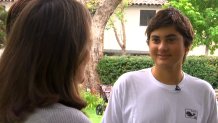 But then, in March, a routine MRI showed evidence of Errol's cancer returning, eventually being detected on his brain stem.
"I've been on the phone every minute since then," Rider McDowell said.
One of the things the McDowell's discovered is that there is a very promising treatment already in the pipeline. "Anti-CD47" is a compound identified by researchers at Stanford University which has been shown to be very effective against cancers similar to Errol's.
"I believe it could be of immense potential benefit in Errol's case," said Dr. Sam Cheshier, Assistant Professor of Neurosurgery at the Lucile Packard Children's Hospital Stanford.
"Five grams of that and Errol can be cured," Rider McDowell added.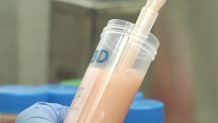 The problem for the McDowell's is that anti-CD47 is not widely available. Approved for use in humans, four drug companies are in the process of conducting clinical trials on adults, but none for children like Errol.
The McDowells feel that waiting patiently for the drug to become available is not an option. "We'll go to the ends of the earth, whatever we can do to get this for our son," Rider McDowell said.
That is where the "bounty" comes in.
$10 million to anyone, domestically or internationally, who can legally provide anti-CD47.
The McDowells have been successful entrepreneurs over the years, most notably as the creators of the successful "Airborne" brand of immune supplements. They say they are simply parents doing anything they can to save their son's life. Their wealth is just another tool they have available to them in their quest.
If successful, the McDowells promise that Errol will not be the only child who will benefit. They plan to provide it to other families facing similar diagnoses.
"By being the first, we are paving the way for their kids to get the drug and we are prepared to subsidize the drug once we make it available," Rider McDowell said. He believes his $10 million could be enough to provide more than 1,000 doses of the medicine.
A medical ethicist, contacted by NBC Bay Area, said he sees no ethical issues with what the McDowells are proposing.