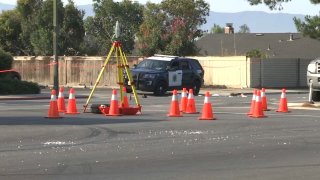 San Jose police were investigating a fatal vehicle-vs.-pedestrian crash involving an ambulance early Saturday morning, according to the police department.
The crash occurred just before 5 a.m. in the area of McKee Road and Checkers Drive, a few blocks west of Regional Medical Center, police said.
The ambulance crew immediately stopped and began life-saving measures on the man, and another ambulance arrived to take him to a hospital, where he was later pronounced dead, police said.
The victim was not immediately identified, pending notification of family. It was the 29th traffic fatality in San Jose this year and the 13th pedestrian fatality.
Anyone with information is asked to contact Detective Malvido with the Department's Traffic Investigation Unit at 408-277-4654.