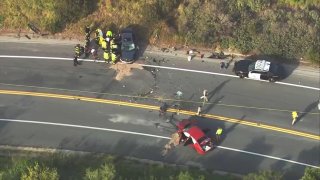 Lanes reopened on eastbound Highway 92 at Interstate 280 in San Mateo following a fatal crash, according to the San Mateo County Sheriff's Office.
CHP officials said that the crash was reported around 4:30 p.m. Friday on Highway 92 at Canada Road.
According to officials, two vehicles, a Honda and a BMW, were involved in the incident.
The driver of the BMW, a man in his 30s died at the scene. The driver of the Honda, a woman in her 20s, suffered major injuries and was taken to Stanford Medical Center.
The lanes reopened just after 8 p.m. Friday.
This is a developing story. Please check back for updates.