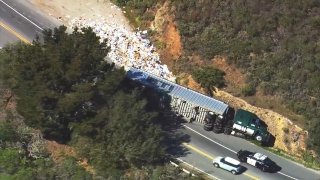 Highway 92 in San Mateo County reopened Tuesday afternoon following an hours long closure due to an overturned big rig.
Backed up traffic due to the collision was reported at around 1:30 p.m. letting drivers know the highway was closed east of Lifemark Road, westbound Lower Lakes and eastbound Skyline.
No injuries have been reported, but drivers should still expect some traffic delays.
This is a developing story. Please check back for updates.