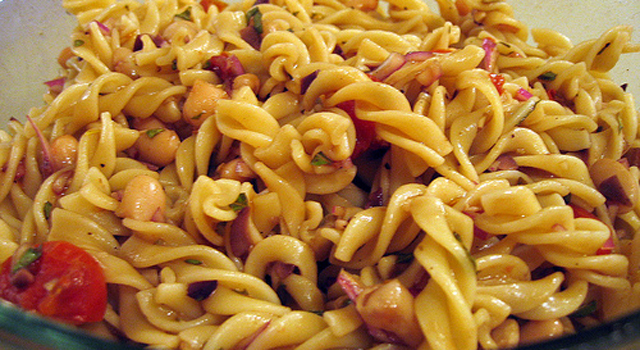 Pasta salads fall into that category of dishes that don't follow rigid recipes.
You can substitute ingredients to your heart's content and you'll still end up with something decent, if not delicious.

However, this pasta salad in particular produced such good results with the ingredients I used that I wouldn't change a thing. The creaminess of the beans, the acidity of the vinegar, the meatiness of the olives - it all came together wonderfully.

The best thing about this salad (other than how easy it is to make) is how well it keeps. I enjoyed this as a leftover the next day and it actually tasted better than it did at first.

1 1/2 tablespoons olive oil

1 pound cherry tomatoes, halved

1 lb fusilli pasta

2 tablespoons balsamic vinegar

4 tablespoons chopped fresh basil

1 garlic clove, minced

1 15-ounce can cannellini (white kidney beans), rinsed, drained

1/4 cup chopped red onion

1/4 cup chopped pitted kalamata olives

1. Cook fusilli pasta in large saucepan of boiling salted water until tender but still firm to bite, stirring occasionally. Drain well. Transfer pasta to large bowl; cool.

2. Mix in tomatoes, vinegar, basil, garlic, beans, onion, olives, and oil. Season with salt and pepper. Transfer salad to large platter.

Mariam Hosseini is a Bay Area native who has been writing about food and travel for six years. She blogs regularly at yogurtsoda.com.