A teacher in San Jose has been arrested for sexually assaulting a student in his classroom, police said.
Ricardo Chavarria, a Spanish teacher at Pioneer High School, was taken into police custody Tuesday and booked into Santa Clara County Jail. The 37-year-old Chavarria, a San Jose resident, faces four counts of sexual penetration with a person under the age of 18 and three counts of oral copulation with a person under the age of 18.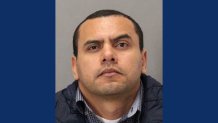 Police investigators said Chavarria committed the alleged crimes between last November to December.
The San Jose Unified School District confirmed the teacher's arrest for inappropriate conduct with a student in a letter to its school community. District officials said the educator will not be returning to Pioneer nor any other position in SJUSD.