((Editor's note: After this story aired, we heard from Peter Heimlich, son of Dr. Henry Heimlich (after whom the "Heimlich maneuver" is named). Peter Heimlich says, based on the position of Rylie Palfalvi's hands, she technically performed "chest thrusts" on Max and not the "Heimlich maneuver" which are abdominal thrusts.))

Of all the things a young person can learn in an advanced life-saving class, there is one part of the process they can never truly comprehend: just how scary it is if you have to do any of it for real.
At a recent class in San Ramon, however, there was at least one person in attendance who knows exactly how scary it can be.
"Very," said 12-year-old Rylie Palfalvi. "Scariest thing I have witnessed in my life."
One day in May, Rylie was in charge of watching her younger brother, Max, for a few minutes until her mother, Kristy, returned from work. Max was eating popcorn at the time and began choking.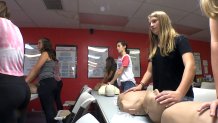 "She starts hitting him on the back and it's still not helping," Kristy Palfalvi said. "I think it dawned on her, 'I am the help. There is nobody else who can help him but me.'"
Rylie put her arms around Max and performed the Heimlich Maneuver. It worked.
"She saved our whole family that day," Kristy said.
How did Rylie know what to do? He mother, a registered nurse taught her.
"We talk about that here. We talked about things like that, what could happen?" Kristy said.
Kristy said the training sessions were never formal, just a few minutes of showing Rylie and her older brother what to do in case they encountered someone needing help.
If it worked so well with Rylie, Kristy thought, then why not with others?
She contacted Heart Start CPR in San Ramon and the company offered to do a training for free. More than a dozen of Rylie's peers signed up to take part.
Kristy hopes this class is just the first of many. She believes no one is too young to begin to learn how to save a life and has a daughter, and a son, to prove it.