Sandra Wing has spent a lifetime in the business world. Studying. Teaching. Doing.
Finances are something the 55-year-old project manager from Pleasanton knows a lot about.
Cancer, however, was something Sandra knew very little about. Until she was diagnosed with it.
"I was diagnosed with both uterine and ovarian cancer in 2006," Sandra says. "I thought, 'That's it. I had a great 47 years, but this is it.'"
Fortunately, it wasn't.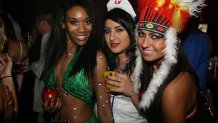 Fortunate, not just for Sandra, but for the hundreds of cancer patients she has helped over the past six years through her Sandra J. Wing Healing Therapies Foundation. Sandra started the non profit in 2009 as a way to help cancer patients pay for "complementary" treatments such as massage, acupuncture, and guided imagery.
"We are caring for the person's whole being and giving them the strength to fight it with traditional medicine," Sandra says.
WATCH MORE BAY AREA PROUD STORIES
It was a traditional course of cancer treatment, surgery and chemotherapy, that Sandra believes saved her life. It was the non-conventional therapies, though, that helped save her sanity through the process. They helped her deal with the anxiety surrounding her surgery, and mitigated some of the side effects of chemotherapy.
Sandra understood, however, that she and her spouse were fortunate to be in a position to pay for treatments out of their own pocket, as they were not covered by insurance. She also understood others were not.
"Cancer, one of the things people don't talk about is how it effects the finances," Sandra says.
The foundation's yearly budget of roughly $250,000 is raised through donations, then awarded in grants to cancer patients in the Tri Valley who can spend the money at a growing number of providers.
Over the life of the foundation, they have given grants to close to 500 patients.
Sandra says, because all the grants are made locally, she will often run into recipients around town. They almost always take advantage of the opportunity to thank her for making their arduous cancer journey, a little more comfortable.