A Pokemon Go player is recovering from a severe cut to his face after he was brutally attacked in San Jose last week while playing the trendy game.
Comic book artist Chris Perguidi said he was playing Pokemon Go on San Carlos Street near Second Street in the afternoon when a man and woman began yelling at him before they attacked him.
"I realized they thought I was recording them," Perguidi said. "I was like, 'No I'm playing a game on my phone,' and kept walking."
Before Perguidi could walk away, the man came at him with a knife, he said.
"His fist was coming, so I tucked my chin," Perguidi said. "He was holding a knife; he got me in the chin, cut my face open."
Perguidi said other Pokeman Go players called police and helped him put pressure on his wound to stop the bleeding. The suspects fled the scene.
Perguidi required 15 external stitches as well as internal stitches to close the large gash across his chin. Being injured didn't seem to squash his spirit for the game: While he waited to be stitched up, he drew Pokemon characters.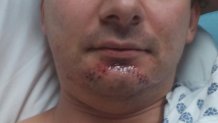 "Squirtle," he said. "I did a bunch in the hospital."
Meanwhile, other Pokemon Go players believe its unfair to blame the game for the violence.
"It's a bigger problem than Pokeman Go," one unidentified player said. "It's all the people accumulating downtown."
Perguidi lives in Gilroy but likes to play Pokemon Go in San Jose because there are more stops there. He said it is something he will continue to do.