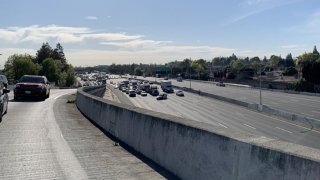 Police activity Tuesday morning shut down Highway 101 in both directions through Mountain View, and combined with a crash in San Jose made for a commuting nightmare on the busy freeway, according to police.
Traffic on Highway 101 was shut down at Rengstorff Avenue for what police described as a "medical emergency" on a freeway overpass.
Motorists were advised to use alternate routes such as Interstate 280 and Highway 85.
The California Highway Patrol issued a Sig-alert at about 8:15 a.m.
It was not immediately clear when that section of the freeway would reopen.
Earlier, a fatal crash and vehicle fire in San Jose snarled traffic on northbound 101 near Alum Rock Avenue, according to the San Jose Fire Department.
Two people were taken to a hospital in that incident, fire officials said.