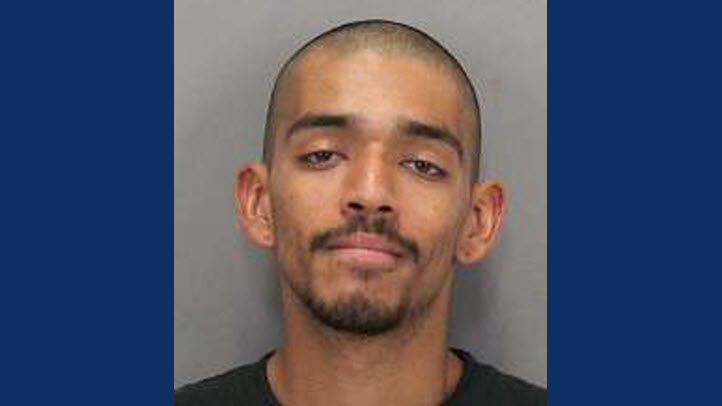 Police on Sunday morning arrested a man in San Jose suspected of ramming a stolen car twice into an occupied police vehicle late last month.
Officers arrested Juan Aguilar at 5:11 a.m. on suspicion of ramming a police vehicle on the morning of Oct. 25, prompting two officers to shoot at him.
Three officers were on foot patrol shortly after midnight in the 400 block of Wooster Avenue west of Highway 101 when they heard over the police radio that a stolen car was headed their way, police Chief Eddie Garcia said at a news conference last month.
One of the officers, who's been identified as Jared Yuen, had just entered his patrol vehicle when he saw the stolen car with Aguilar allegedly inside. Aguilar allegedly changed gears and backed up into a cul-de-sac, Garcia said.
Yuen attempted a high-risk traffic stop on Aguilar, who allegedly didn't comply and drove head-on into Yuen's patrol vehicle. Aguilar allegedly then drove in reverse, crashed into a parked big-rig and drove again into Yuen's patrol vehicle, Garcia said.
In defense of Yuen, the two other officers, who've been identified as Marco Mercado and Julien Taylor, fired at Aguilar, who fled the scene, police said.
The stolen car was found empty about a mile east in the area of McKee Road and El Rancho Verde Drive a short time later, according to Garcia.
Officers and K-9 units searched the area, where they took a man who was hiding into custody on a misdemeanor warrant for resisting arrest, Garcia said.
Investigators later determined the man they had in custody wasn't Aguilar, police said.
Yuen was left with a minor injury to a lower extremity. He was transported to a hospital and then released, the chief said.
Officers on Sunday morning stopped and arrested Aguilar on suspicion of driving a stolen vehicle and possessing methamphetamine, drug paraphernalia and burglary tools.
Aguilar was booked into the county jail on suspicion of the offenses he was arrested on today and on suspicion of assault with a deadly weapon on a police officer and auto theft.
Garcia said Yuen has been with the department for two years and Mercado and Taylor each for three and a half years.
This was the first officer-involved shooting to be captured on the department's new body-worn cameras and has helped in the investigation, but the footage won't be released to the public, Garcia said.